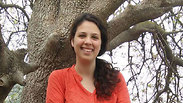 Ori Ansbacher
Photo: Courtesy of family
Israeli security forces mapped early Sunday morning the home of a Palestinian suspected of brutally killing 19-year-old Ori Ansbacher in Jerusalem, ahead of a possible demolition. The suspect, 29-year-old Arafat Irfayia—a resident of Hebron in the West Bank—was arrested by Israel Defense Forces on Saturday and is believed to be affiliated with the Hamas terror group. He was previously imprisoned for possession of a knife and illegally residing in Israel.
The naked body of the Jewish teen—from the West Bank settlement of Tekoa—was found two days ago, with multiple stab wounds, in the woods at Ein Yael on the outskirts of Jerusalem, police said. Shin Bet said the suspect left his home in Hebron carrying a knife, saw the victim in the forest, attacked and killed her. It was still investigating the motive.
Earlier on Saturday, Shin Bet domestic security service and police said in a statement that the 29-year-old Palestinian suspect was seized over the killing of the 19-year-old woman during a raid in the Palestinian city of Ramallah in the West Bank.
IDF maps home of Israeli teen's killer (צילום: דובר צה"ל)
Hundreds of people gathered on Saturday night at candle-light vigil for the victim of the horrific murder at Tel Aviv's Rabin Square. In Ansbacher's home town of Tekoa, dozens of local residents also attended a memorial at the settlement's main square.
In addition, some 100 people gathered at Jerusalem's Zion Square and called on the government to avenge the murder. "We came here to express our pain ... The was she was murdered is shocking and the entire country must tremble in light of this atrocity," said Yamit Abramov, a friend of the murdered teen's family. Dozens of demonstrators also blocked the entrance to Jerusalem, chanting: "The people demand revenge."
"Ori walked the earth confidently, having faith in the world, when an evil force came and took her from us," said Ori's mother, Noa Ansbacher in a statement at the family home in Tekoa. "She was a noble soul, beautiful inside and out."
Palestinian authorities did not immediately comment.
Public Security Minister Gilad Erdan said he viewed it as a terrorist attack. "We're talking about a wide phenomenon of terrorism we're dealing with here," he told Reshet TV.