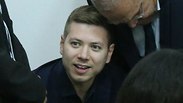 Yair Netanyahu
Photo: Motti Kimchi
Yair Netanyahu to Rabin's grandson: Your grandfather murdered Holocaust survivors
PM's son lashes out at Yonatan Ben-Artzi for calling his father 'cowardly leader and mediocre warrior,' says his slain grandfather deliberately shot at rival Jewish fighters during internecine battle in Tel Aviv in June 1948.
Prime Minister Benjamin Netanyahu's son, Yair, on Wednesday sparked outcry on social media, clashing with slain Prime Minister Yitzhak Rabin's grandson, Yonatan Ben-Artzi, calling Rabin "a murderer of Holocaust survivors."

The exchange of insults began when Ben-Artzi posted a hawkish tweet about Prime Minister Benjamin Netanyahu's performance as a soldier.

"(Israel Resilience Party leader) Benny Gantz exposed the lie veteran military men know so well: Bibi is a coward. He was a cowardly soldier and a mediocre warrior at best," Ben-Artzi wrote on his Twitter page, calling Prime Minister Benjamin Netanyahu by his nickname.

"Everybody who served in the (IDF elite Sayeret Matkal) unit knows he (Netanyahu) jumped off a boat during an operational activity for fear of being shot (by friendly fire) and that his carelessness led to the discovery of (our) forces," Ben-Artzi wrote in reference to a quote by Netanyahu about his performance in the War of Attrition in 1969.

"I almost drowned in the Suez Canal after returning from an operation during the War of Attrition. Bullets whistling from all directions hit my boat. I jumped overboard with an ammunition box attached to my back. My comrades pulled me by the hand and prevented me from drowning," Netanyahu was cited as saying in his speech in the conference marking 50 years since the establishment of Sayeret Matkal.

In response, Yair, who is known for his extreme remarks, tweeted:"Your grandfather was the one who experienced nervous breakdowns in every battle (especially during the Six-Day War), except for the Altalena Affair, where he proudly commanded over the murder of Holocaust survivors who tried swimming to shore, only because they were rightists.

The Altalena Affair was a violent confrontation between the newly-created IDF that comprised the Palmach elite fighting force of the Haganah, the underground army of the Jewish community during the British Mandate for Palestine and the Etzel (Irgun), one of the Jewish paramilitary groups, in June 1948.

The Palmach was established in 1941, with Rabin being one of its founders and leaders.

In Rabin's autobiography "Service Book" that was published in 1979, he wrote:" A reinforcement of Etzel warriors, who disembarked from the ship coming from Tel Aviv, swarmed the shore. They opened fire at us. We fired back at the Etzel squads that were deployed throughout the shore in significant numbers.

"The house next to us was controlled by Etzel members. We made a pact with them: They don't shoot at us and we don't shoot at them. (Suddenly) a sound of explosion shook the building. Etzel launched a shell at the Palmach headquarters….Me and Amos Horev went up to the roof of the building and threw grenades at the squads deployed on the shore.

"One of the Etzel commanders lost his self-control, and shouted: 'why are you shooting at Jews?'

"I replied that 'When Jews cease shooting at us, will cease shooting at Jews," Rabin wrote in his memoir.

Rabin was assassinated on November 4, 1995 by a Jewish right-wing extremist during a Tel Aviv peace rally.