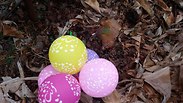 An explosive device tied to a cluster of balloons landed Wednesday in Eshkol Regional Council in southern Israel, causing damage to the windows of a house there. No casualties were reported in the incident.

The IDF Spokesperson's Unit said the balloons were dispatched from southern Gaza and that it appears the device exploded in midair.

Following the incident, head of the Eshkol Regional Council Gadi Yarkoni said: "The airborne incendiary and explosive devices tied to balloons are terrorism to all intents and purposes, and today this terrorism is stepping up.

"Eshkol residents have shown incredible patience, allowing the decision-makers and the Israel Defense Forces to exhaust all options to eradicate the terror striking our communities. But we won't accept this reality and expect an immediate solution ensuring long-term calm."

Former head of the Eshkol Regional Council, Yesh Atid MK Haim Jelin, said that consistently ignoring the devices sent from Gaza had led to intensified attacks, culminating in explosive devices being tied to balloons.

Lashing out at the prime minister he said, "Netanyahu, you failed. Israeli communities near the Gaza border are not safe. The only thing you have left is empty slogans. Explosive balloons should be viewed with the same severity as Qassam missiles."

Last week, two fires broke out in the Kissufim forest in the Eshkol Regional Council due to an incendiary airborne device tied to a balloon that was launched from Gaza.

In addition, an incendiary device attached to a balloon landed in Sha'ar HaNegev Regional Council in the Gaza border communities and was neutralized by a police sapper.

In January, an explosive device tied to balloons was found in the Gezer Field, near the Ramat Negev Regional Council. The police neutralized the device and no casualties were reported.

In December, a cluster of 10 balloons attached to a miniature explosive device landed near a kindergarten yard in moshav Kfar Maimon in the Sdot Negev Regional Council and an additional balloon attached to an incendiary device landed in the southern moshav of Zru'a. In both incidents there were no casualties reported.