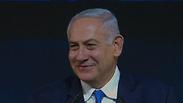 Benjamin Netanyahu
Photo: Contact
While the final vote count is not expected before late Thursday, Benjamin Netanyahu appears to have a clear path to his 5th term as Prime Minister.
With a ten seat lead Netanyahu's coalition will rely on a stronger ultra-orthodox block consisting of 16 seats, divided equally between Shas and the United Torah Judaism Party.
Netanyahu will also rely on his partners to the right: The Union of Right Wing Parties, with six 6 seats so far and Moshe Kahlon's Kulanu which managed to scrape by the minimum votes needed to win 4 seats.
Avigdor Leiberman's Israel Beiteinu Party is also expected to join the new coalition despite a contentious past with the Prime Minister that resulted in his resignation from the position of Defense Minister, last year.
With the expected 200,000 absentee ballots, most of them from the military, the fate of parties close to the minimum threshold will be determined among them, Naftali Bennett and Ayelet Shaked who have both served the outgoing government as ministers of Education and Justice respectively.
The new government will face challenges both to Netanyahu himself, with three indictments on charges of corruption pending, and to the well being of the coalition following the announcement of President Trump's long awaited "deal of the century"