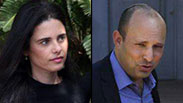 Ayelet Shaked and Naftali Bennett
Photo: Shaul Golan, Yariv Katz
Bennett and Shaked demand recount after apparently missing threshold
The New Right party claims someone is 'cheating right-wing out of votes' after all the absentee ballots - the right-wing party believed would take them over the threshold - were counted; overall number of valid votes currently stands at 4,299,822
The New Right right-wing party appears to not have passed the electoral threshold, with all absentee ballots counted early Thursday. The party demands a recount, claiming "someone is cheating the right-wing out of votes."
Naftali Bennett and Ayelet Shaked's party appears to have missed the 3.25% threshold after the absentee ballots - known as the double-sealed envelopes that are counted last - had been counted. The double envelopes - which include soldiers, prisoners, hospital patients and Israeli diplomats abroad - amount to approximately 200,000 ballots.
The vote - following the general elections held across the country on Tuesday - appears to be split with Prime Minister Benjamin Netanyahu's Likud and the Blue and White Party lead by Benny Gantz receiving 35 seats each. The prime minister, however, secured a path to reelection by having a clear right-wing majority bloc in the Knesset.
The Central Elections Committee said earlier Thursday that it all but finished counting the votes for the 21st Knesset election and the overall number of valid votes currently stands at 4,299,822.
"The counting of the double-sealed envelopes has ended … but in light of the race being so tight and the significance of every single vote - which can influence the distribution of Knesset seats - and in order to preserve purity of elections, the Central Elections Committee is examining the process of tallying the votes," said the elections ruling body in a statement.
"We remain optimistic," said Shaked after hearing the final results. "The earlier reports were good, so we have to wait for the final decision of the Central Elections Committee."
As the votes of the soldiers were being tallied overnight Wednesday, it looked as though the New Right party would, after all, enter the Knesset with four seats. As the day progressed, however, the numbers appear to have dropped below the threshold mark once again.
"There are very strange things happening in the Central Elections Committee," said election observers from the New Right party. "We weren't allowed to enter the Central Elections Committee and their website supposedly was stuck … then the party's numbers suddenly dropped below the threshold, and the right-wing bloc in the Knesset dropped from 67 to 64 seats … We will demand a recount," they added.
If the results stay as they appear to be at the moment, more political shifts are expected with Meretz expected to gain an additional Knesset seat - taking the left-wing party to a total of five - while the ultra-Orthodox United Torah Judaism party appears to have lost a seat, bringing them to a total of seven seats.
In addition, the joint Arab electoral list Ra'am-Balad - which by Wednesday looked to have failed to pass the threshold - now appears to have four Knesset seats.