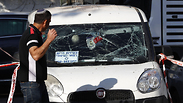 aftermath of rocket attack
Photo: AFP
IDF Chief of Staff Lt. General Aviv Kochavi is changing the terminology. He insists on calling the latest events as "days of battle" and not the usual "rounds of violence." He also calls Hamas and Islamic Jihad "terror armies" rather than "terror organizations."

General Kochavi thinks words matter and can affect preparedness of the fighting forces as well as the civilian population, for a military campaign, that is likely to take place later this summer.

A green light from the political level is expected as soon as the military confirms it is prepared to embark on a campaign that will weaken Hamas's military capabilities and reinstate Israeli deterrence. This without Israeli forces having to put boots on the ground inside the Strip for an extended period of time.

Prime Minister Benjamin Netanyahu met Saturday night with the chief of staff and other security heads, looking for a way to end this round of violence and return quiet to the border, at least until the Eurovision Song Contest, held in Tel Aviv at the end of the month, has come and gone.

Israel understands the message sent by Hamas in the form of rocket fire. Hamas has been complaining that Israel is not fulfilling its commitments made to Egypt and the UN before the April 2019 elections. Hamas is facing growing public pressure, for some relief, on the eve of the holy month of Ramadan.

Hamas considers the next three weeks as an opportunity to act while Israel's hands are tied because of Independence Day celebrations and the Eurovision.

This round began with sniper fire, probably not sanctioned by Hamas, but used by it as an opportunity to instigate the fighting. Israel can no longer blame rogue factions trying to sabotage long-term agreements.

The factions, who are behind much of the shelling, cannot operate without Hamas consent. Hamas leader Yahya Sinwar is well aware of Israel's preparedness to set out on a game-changing campaign. This round is meant to show the Israeli leadership that Hamas is prepared and will exact a heavy price of its own.

Sinwar's experience as a long- time inmate in Israeli prisons has taught him that Israel only understands strength; as a result, the State of Israel exists under the shadow of a violent, militant, terror organization.

This repetitive ritual must stop. If the Israeli leadership is unable to find a non-violent solution, a violent one should be employed.

This round is likely to go on, it may even intensify. Israel chose to target manned positions and may have attempted to take out a high-ranking commander.

The extent of the fighting will depend on the number of casualties on both sides.

Egypt had called Palestinian faction leaders to Cairo last week, hoping to calm tensions and prevent an escalation before this latest outbreak of fire. These talks continue.

Israel will be presented with demands and will likely agree to them for now. But the bill will surely be presented to Hamas before this summer is over.