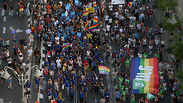 18th annual Jerusalem's Gay Pride Parade
Photo: Ohad Zwigenberg
Jerusalem's Gay Pride parade kicks-off amid at least 49 arrests
Some 15,000 people took to the streets of Israel's capital to express their solidarity with the LGBTQ community; among those detained by the police, is a suspect who was carrying a knife; Israel's first openly gay minister Amir Ohana, heavily booed
Some 15,000 people turned out Thursday in the capital as part of the 18th annual Jerusalem Gay Pride Parade. The event got underway under increased security measures implemented by the police, with at least 2,600 police officers deployed to secure the march, nearly 100 more than last year.
The police in Jerusalem said at least 49 people had been detained before and during the parade, including a man carrying a knife who was arrested by undercover police officers just hours before the event was due to get underway. The police said the suspect refused to identify himself and was taken for further questioning.
Israel's first openly gay minister Amir Ohana from Likud, who was assigned the justice portfolio by Prime Minister Benjamin Netanyahu on Wednesday, arrived at the Liberty Bell Park in Jerusalem - where the pride parade was to kick-off - was booded by the crowd assembed at the location, with some shouting 'Shame, Shame' and 'What have you done for our community?' at the new minister.
"It's important that all of you are here, despite demonstrating against me," Ohana said to the crowd before leaving the event shortly after.
Amir Ohana booed by participants of Jerusalem's Gay Pride parade
Earlier in the day, two other people were detained by the police on suspicion of trying to disrupt the event considered controversial by some members of the ultra-Orthodox community, prevalent in the holy city.
The police gave no further details about the suspects' identities or what they were planning to do at the event.
In 2015, 16-year-old Shira Banki, was critically injured and later died from her wounds after being stabbed during Gay Pride parade in the city by a Yishai Shlissel, a Haredi man who served a 10-year prison sentence for stabbing three marchers at the same event ten years prior.
Shira's father, Uri, was among those who attended Thursday's march. "It has been almost four years and Shira would've been 20 years old by now … We - family and friends - are marching in her memory in order to encourage tolerance in Israeli society," he said.


A demonstration by some 40 activists from Lehava - extreme-right anti-assimilation group - took place not far from the location of the Pride Parade. The activists held banners condemning the LGBTQ community that read "It's not pride, it's an abomination."
"We are here to protest against anyone who tries to make Jerusalem an unholy city," said Ben-Zion Gopstein, founder and director of Lehava.
Gopstein also attacked the mayor of Jerusalem, Moshe Lion, for ordering the municipality to take down posters put up on a Jerusalem hotel by Hazon - right-wing Israeli organization - objecting to same-sex marrige. The posters read, "A father + a mother = a family: The courage to be normal."
Despite the protests from various religious groups, many religious LGBTQ members attended the march. Yonatan, a yeshiva student from Jerusalem, said it was important for him to participate because he "loves God the same way as everyone else."
Later in the evening an event was to take place at Jerusalem's Independence Park, accompanied by performances from various musical artists and speeches from pro-LGBTQ activists.