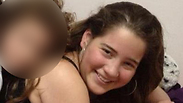 Shira Banki, 16, who was critically wounded after being stabbed during the Jerusalem Pride Parade on Thursday by a Jewish terrorist, has succumbed to her wounds after a three-day battle for her life.
Spontaneous rallies were held in Banki's memory in Jerusalem and Tel Aviv on Sunday evening, with several hundred people participating.
Yishai Shlissel, a haredi man who recently finished a 10-year term in prison for stabbing three marchers at the 2005 Jerusalem Pride Parade, returned to the scene of the crime on Thursday and stabbed six people. Four of them were lightly wounded, one moderately and Banki was critically wounded.
Shlissel was captured on the scene and is currently in police custody.
"We won't permit the terrible murderer to challenge the basic values on which Israeli society is built," Prime Minister Benjamin Netanyahu said in a statement after sending his condolences to the family.
"We reject with disgust any attempt to impose hatred and violence among us and will bring the murderer to justice," it said. "Shira was murdered because she bravely supported the principle that everyone has the right to live their lives respectfully and with security."
Banki, a high school student, was hospitalized at the Hadassah Medical Center in Jerusalem's Ein Karem, and was on respirator and sedated as doctors were fighting for her life. Her family announced that they will donate Shira's organs.
One of the other wounded at the attack is also hospitalized in Ein Karem in light condition. Another in moderate condition is at the Shaare Zedek Medical Center in Jerusalem.
Police is looking into a possible connection between Shlissel and a rebbetzin (a rabbi's wife) from Jerusalem, who is a prominent, vocal critic of the pride parade.
Police arrived at the rebbetzin's home on Thursday evening and Saturday evening to detain her, but she collapsed and was taken to hospital for medical treatment.
Ynet learned that a year ago, Shlissel turned to the rebbetzin's husband, asking for his help in spreading rabbinical literature, and a connection was indeed made between the two.
Both the rabbi and his wife deny that they had any knowledge of Shlissel's plans, or that they were in any contact with him close to the time of the parade.