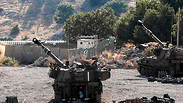 IDF forces on the border with Syria
Photo: AFP
Iran's foiled 'killer drones' were attempt to avenge Israel's strikes in Iraq
Analysis: Israel's decision to go public with the news that the military thwarted an unprecedented Iranian aerial attack from Syrian territory sends a message to Khamenei, Putin and the rest of the world still skeptical about Iran's intentions in the region
The ongoing conflict between Israel and Iran appears to be widening. The attacks against Iranian targets in Iraq - which are attributed to Israel - over recent days have led the Islamic Republic to initiate an unprecedented "killer drones" attack on Israel from Syrian territory.

The Israel Defense Forces' successful thwarting of the planned attack, as well as the decision to publicly announce it, sends a message to the Quds Force (a unit in Iran's Revolutionary Guards) commander Qasem Soleimani, ahead of the upcoming battles in this regional war.

The failed terror attack was meant to be Tehran's response to the alleged Israeli strikes on Iranian missile depots in Iraq.

The missiles, which apparently were meant to be transferred to Iranian allies in Syria and Lebanon, were hidden on military bases belonging to the Popular Mobilization Forces (an Iraqi umbrella organization of militias that includes Iran-backed Shi'ite groups).

According to PMF, the attacks had been carried out by Israeli unmanned aerial vehicles, hence as far as Iran is concerned the retaliation should be similar in nature and also involve UAVs.

Furthermore, Iraqi Shi'ite militias went as far as to cooperate with the Quds Force on the failed attack on northern Israel. The Iranians, along with their allies in Yemen - Shiite Houthi rebel groups - have already carried out similar attacks in Saudi Arabia, aimed mainly against the country's oil facilities.

Iran's Kayhan newspaper reported Saturday that Israel shouldn't be surprised if it is attacked by drones, since the Jewish state has "rightfully earned it."

The report may have been meant as a deterrent to Israel, but in truth the Iranian regime has attempted to launch similar attacks against Israel in the past, most recently on Thursday.

Israel's decision to officially confirm that it thwarted the attacks was made not only to deter the Islamic Republic from launching similar strikes in the future, but also to signal to the Russians - and the rest of the world - that the Iranian military entrenchment in Syria still continues.

Another consideration behind the decision to go public stems from Israel's desire to demonstrate to Ayatollah Ali Khamenei that Soleimani - who tends to hide his shortcomings from the country's supreme leader - has failed.

This latest incident shows the war on Iran's attempt to establish a military presence in Iraq isn't over. It also shows that the Revolutionary Guard - which is no doubt enraged by its vulnerability to Israeli intelligence-gathering methods - will no doubt keeping trying to carry out revenge attacks on Israeli targets, but using different techniques.

What Iran should bear in mind, however, is that the next time Israel moves to thwart such an attack on its territory, the impact will be far greater.