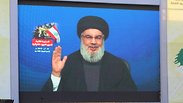 Hassan Nasrallah during his televised address Sunday
Photo: AFP
Hezbollah Secretary-General Hassan Nasrallah, either on his own initiative or because he received a request or instruction from the Iranians, took upon himself to become the spokesperson reacting to the Israeli attack in Syria Saturday, thereby removing responsibility from Qassem Soleimani, commander of the Iranian Revolutionary Guard Corps in Syria as well as the Iraqi Shi'ite militias.
Nasrallah claimed the base that was attacked, located south of Damascus, was a Hezbollah base, despite the fact that his organization does not operate in the area.
His aim was not only to remove blame for his Iranian patrons, but also to clear the Syrian regime from any responsibility.
The Hezbollah chief wanted also to be seen responding forcefully, to the two drones that crashed in his stronghold of Dahieh in Beirut, prompting him to say the alleged Israeli attack was the first since 2006, and that Hezbollah will have its revenge, though it may take some time.
The Shiite leader hoped to increase tension in the Israeli public and force the IDF to invest resources in order to stay on high alert.
Israeli security officials and the intelligence community are taking Nasrallah's threats seriously and emergency measures have been put in place.
Netanyahu, while on tour of the northern border Sunday, dispatched an explicit warning to Lebanon, that it will be held responsible for any act of revenge against Israeli citizens that may come from Hezbollah.
Nasrallah's threat to take out Israeli drones is unfounded. The organization has been trying unsuccessfully to bring down Israeli manned and unmanned aircraft for years.
He may try to dispatch drones into Israel in the near future, in response to the public humiliation suffered by the Iranian led forces.
retribution may come from either Iran or Hezbollah.
In his speech Sunday Nasrallah, in fact confirmed the forces in Syria were poised to attack Israel in response to Israeli raids in Iraq.
Still he offered no explanation for the drones that crashed in Beirut. His claims made in his speech, that one of the drones was on an intelligence gathering mission is unfounded especially because any such mission would be carried out at a much higher altitude and could certainly not be taken down by children throwing stones.
A drone flying that low is meant to be seen by the public and convey a certain message.