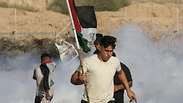 Protests on the Israel-Gaza border earlier this month
Photo: AFP
The director of the Shin Bet security service must be holding his head in disbelief and asking himself, how did he fall into Prime Minister Benjamin Netanyahu's trap, by taking seriously his demand to land a sweeping strike onto Gaza on the eve of Election Day.

The heads of the military are gullible, but the director – who served under so many defense ministers and prime ministers spitting fire and just waiting for someone to pour some cold water on them – should have immediately figured that Netanyahu was playing a game of "chicken" with him once again.

Whoever flinches and backs down first is "the chicken," and whoever keeps rushing towards goal is "the man."

Netanyahu is not the first politician to play this game with the military. But the next prime minister will no longer be able to do so.

It is clear to the heads of the security forces that Israel is currently standing in a corridor leading it straight into another military conflict in Gaza, one that doesn't necessarily depend on its actions or scandals.

Amid similar public pressure back in 2006, Hamas easily removed the Palestinian Authority from the Gaza Strip.

The recent resumption of Palestinian aggression from the Gaza Strip is meant to preserve Hamas's rule, which is undermined by continuous economic sanctions.

Hamas senses that the Palestinian street is starting to lose its patience and is trying to direct this frustration to the border fence with Israel, hoping to rake in economic achievements as part of agreements to calm the area.

It worked. The Gaza Strip has seen a 1.8% rise in its residents' standard of living, but that's not enough to quell the internal flames.

A poll conducted last week by the Palestinian Center for Policy and Survey Research shows that more than two thirds of Gazans think that the Hamas administration is corrupt. It's no wonder that almost half of Gazans want to leave permanently the Gaza Strip.

This poll should raise a red flag at the IDF headquarters in Tel Aviv, for Hamas leader Yahya Sinwar has no other way out but to use every means at his disposal against Israel.

Deep in his heart, Sinwar was and still is the leader of Hamas prisoners, power playing the wardens to get benefits.

Today, his prison is the Gaza Strip; the prisoners are the residents and he is ready to use measured violence and pay heavy prices just to achieve his goals.

If you push him into a corner and he starts to feel that he's losing the "prisoners," he might start a bloody rebellion at the prison - meaning another military confrontation with the IDF. He isn't far off that point, with or without the elections.

Alongside the loss of public trust in Hamas's rule of the Gaza Strip, there is another threat, no less significant, hovering over Sinwar's head: the Qatari hints at a cessation of its aid to the Gaza Strip.

Qatar has invested more than $400 million in Gaza for construction of infrastructure. In 2018, the Qataris agreed to transfer an extra $15-30 million every month to fund fuel, welfare and salaries.

According to the agreements between Hamas and the Qataris, these two income sources are about to be cut by the end of 2019, and they have no replacement for the time being.

The Qataris are not showering Hamas with money for altruistic reasons. Qatar has a pragmatic policy when it comes to parties and movements ideologically related to Islamist Muslim Brotherhood organization.

In exchange, Qatar wants to extend its reach and become a center of power and influence in the region.

The Qataris move on from every place in which its money doesn't realize this goal, and Gaza isn't delivering the political goods.

The Qatari money hasn't managed to drive the Egyptian "enemy" out of the Gaza Strip; Hamas didn't scale down tensions with Israel, but only gets closer to Iran and sucks up to Syrian President Bashar Asasad.

And if that's not enough, Hamas is also slipping hefty sums from Qatari investments into its personal pockets.

Sinwar lit up the Gaza border just because the transfer of the financial aid was delayed.

A complete halt of all Qatari aid might lead Sinwar to take extreme measures that could catch Israel off guard, as it is too preoccupied playing political musical chairs, divided after an entire year of incitement campaigns and mentally unprepared for war.