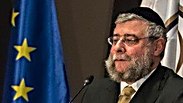 Rabbi Pinchas Goldschmidt
Photo: Eli Itkin
The chief rabbi of the main Orthodox rabbinical alliance in Europe said Thursday that a resurgence of anti-Semitism on the continent "poses an existential threat to the Jewish community."

Chief Rabbi Pinchas Goldschmidt of the Conference of European Rabbis said that the receding memory of the Holocaust, rising far-right sentiment and radical Islam are the key factors fueling the anti-Semitic climate.

The attack on a German synagogue on Yom Kippur, in which two bystanders were killed, was the latest violent manifestation of the trend, he said.

Goldschmidt spoke ahead of the awarding of the Moshe Rosen Award to the founder of the Catholic charity Sant'Egidio, Andrea Riccardi.

The award, which was to be presented Thursday in Rome, recognizes non-Jews who promote dialogue, understanding and tolerance to ensure a Jewish future in Europe.

Earlier this year, Goldschmidt warned that proposals in Europe to ban non-medical circumcision and ban kosher slaughter were making Jews on the continent feel unwelcome, even as anti-Semitism was increasing.

"We must recognize the harsh statement by European society toward us," Goldschmidt told Ynet in May.

"They are telling us that if you Jews want to remain here among us, you must stop being Jewish. They are claiming that our customs, circumcision and kosher slaughter, are unenlightened. But we will fight for our traditions."

"We have competent mohelim (who perform circumcisions) who know their occupation and kosher slaughterers," said Goldschmidt, who has served as the chief rabbi of Russia for the past three decades.

"Suddenly 40 million Muslims who perform circumcision at a later age arrived in Europe, and they are performed by non-professionals, which leads to accidents.

"The concern over Muslim immigration brought about the bans on circumcision and kosher slaughter. They do it so that Muslims will leave Europe, but on the way, they forgot that it harms Jews as well."