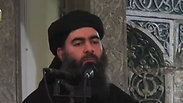 Islamic State will not die with Baghdadi
Analysis: The terrorist organization's leader, killed during a U.S.-led raid in Syria, will likely achieve mythological status among his adherents, and while his demise will be a blow to morale in certain parts of the world, his message will still inspire many to carry out attacks
One must employ caution and skepticism when it comes the apparent assassination of Islamic State leader Abu Bakr al-Baghdadi in a U.S.-led raid in Syria.

Numerous attempts have been made to eliminate him since 2014, when IS managed to take over one-third of Iraq's territory and much of Syria's as well.

The last of these was in 2017, when the Russian Defense Ministry announced that it had succeeded in doing so during a devastating air in Islamic State's then-headquarters in the Syrian city of Raqqa.

These claims later turned out to be somewhat overblown, given that Awad Ibrahim Ali al-Badri – the IS leader's real name - appeared on a recording that he released proving he was alive and kicking.

Even so, experience shows that Pentagon claims are credible, even when released unofficially, so it is fair to assume that al-Baghdadi did indeed die during an American raid in the heart of Idlib province in northwestern Syria, that was based on intelligence received from the CIA and perhaps other sources in the Middle East.

The details of the raid, the surrounding drama and exactly how Baghdad was killed are yet to be confirmed, but what matters most now is to assess the extent to which his elimination will affect the murderous activities of the Islamic State in Iraq and Syria (or ISIS – the group's official name).

Branches of this terrorist organization are now deployed in the Middle East, Asia, Africa and presumably in Europe as well.

The organization is committing deadly attacks from Sri Lanka through Mali to southern France and although it suffered a severe blow when it lost all territories in Iraq and Syria beginning in 2017, it is still dangerous.

Now, instead of trying to preserve the vast territory and key cities it held in Iraq and Syria and see them as the beginning of a global Islamic "caliphate," it returned to its roots - a guerrilla-inspired organization operating according to the guidelines it received from time to time through audio and video tapes from al-Baghdadi.

According to the United Nations, the organization still has some 30,000 fighters in scattered underground cells in Iraq and Syria; these cells include foreign Muslim civilians from all over the world - from Europe to Chechnya and Afghanistan and the Philippines.

IS also has thousands of fighters in the Sinai Peninsula battling the Egyptian army, as well as active and murderous groups in Nigeria, Pakistan, France and Belgium. And this is only a partial list.
Different to bin Laden
Unlike al-Qaeda leader Osama bin Laden, al-Baghdadi not only provided strategic guidance to his organization but was also deeply involved in its daily operations. In contrast, bin Laden before his 2011 killing delegated much of his authority to al-Qaeda's local leadership.
Baghdadi, on the other hand, despite being hunted and constantly forced to change hiding places to evade capture, had his hands on the rudder. With the help of a limited and effective group of leaders, he continued to manage the organization's operations even as it suffered defeat after defeat and most of its deputies were taken out or killed in battle.
Baghdadi remained on the front lines throughout Islamic State's main campaign in Syria, also continuing to manage its members in Iraq and successfully transforming ISIS from a terrorist organization with a country to its origins as a guerrilla organization operating in secret and carrying out mass suicide bombing attacks.
He did not entirely abandon the concept of the Islamic State despite the Russian and the Western coalition attacks on him - he merely postponed it, he said in tapes he circulated, until a more fitting time.
Islamic State managed to continue its deadly guerrilla activity on an almost daily basis in both Syria and Iraq, accompanied by an effective and sophisticated media campaign that helped leverage these "victories" and maintain support for the Islamic State organization and its principles.
This modus operandi is the reason why the organization has attracted - and still attracts - so many Muslims to its ranks. Its central philosophy is to establish universal Islamic "caliphate" that will rule the entire world under Sharia law and return Muslims to a life lived by the customs held during the life of Prophet Muhammad some 1,500 years ago.
Baghdadi had crowned himself as Khalifa Ibrahim - in other words, the ruler who is heir to Prophet Muhammad. He embodied the concept of the caliphate and as such his death will likely have a major impact on the Salafi-Sunni ideals he preached that drew young Muslim men and women.
Although Baghdadi had a host of deputies and assistants, the most important ones have been eliminated over the years, and those who remain will embark on a power struggle that will affect the entire organization.
The IS leader was a personal example as he led his men fighting in Idlib, the main stronghold left by Sunni Muslim rebels in Syria. He was in hiding, but also led his men in what was supposed to be the final battle against Bashar Assad's regime and the Russian-Iranian coalition supporting him.
Baghdadi's death may accelerate the occupation of the Idlib enclave by the Assad regime, helped by Russian bombing and backed by Shiite militias operating under Iranian patronage.
The rival al-Qaeda organization, formerly called Jabhat a-Nusra, is also active in Idlib and is no less radical or less determined to fight Assad's regime.
Nonetheless, the removal of Baghdadi may affect the morale of all the Sunni jihadists now concentrated in Idlib to prepare for the final battle.
Fixing Trump's blunders
Baghdadi's death is an extraordinary success for the Americans and their ability to gather and analyze accurate intelligence and produce a commando operation in the heart of a region held by the extremist and skilled Salafi-Sunni Jihadists.

The Idlib region is not far from the Russian bases in Latakia in western Syria and the adjacent main Russian stronghold in Syria at Khmeimim Air Base.

Until recently, the Americans were deployed north of Idlib, but in small numbers dealing mainly with pockets of Islamic State fighters remaining in the desert east of the Euphrates River.

And although Baghdadi was just under their noses, the Russians were unable to gather the intelligence to eliminate him (and indeed wrongly declared they had killed him two years ago).

But now U.S. intelligence agencies and special forces have managed it - big time.

This indicates that the U.S. intelligence community and special forces can function successfully and carry out very important operations even with very small numbers, even if Donald Trump - out of a reckless, isolationist ideology – depletes the Americans presence in Syria.

The U.S. is likely to remain in the country as an influential military force to help curb Iranian regional ambitions and, of course, prevent Islamic State from rebuilding.

To put it bluntly - the Pentagon and U.S. defense secretary know how to fix what Trump has ruined.

It is important to remember that Syria now has several hundred U.S. troops at key points and in very small bases from which soldiers are working with local Kurds and Arabs in order to prevent Iranian-supported Shiite militias from establishing a land corridor from Tehran to Damascus and Beirut and to oust the remaining IS forces.

This is good news for Israel, which is constantly working to thwart Iran's plans for regional hegemony.

Baghdadi's death is also good news, and one can assume that fewer and fewer Arab citizens of Israel will now try to reach Syria and Iraq to fight in IS ranks.

Even so, IS underground activity in Europe is unlikely to cease. It may even be bolstered by the announcement of a new leader to replace Baghdadi and inspired by the myths created among jihadists around the world following his death.

And sometimes the myth is more dangerous than the living man.