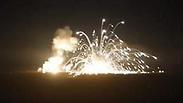 IDF airstrike in Damascus
The IDF airstrikes in Syria earlier this week were a direct response to the four Iranian-made heavy rockets fired at Israel onTuesday night.

The rockets were launched at Israel from south of Damascus by a Syrian Shi'ite militia under the auspices and funding of the Quds Force of the Iranian Revolutionary Guard Corps.

In other words, they were fired within about 80km from the border with Israel, an area where Russian President Vladimir Putin promised Prime Minister Benjamin Netanyahu there would be no Iranians nor Shi'ite militias operating on the Islamic Republic's behalf.

The Iranians apparently fired in response to an attack on military targets attributed to Israel in Syria and Iraq.

The rockets were indubitably targeted at Israeli population centers, and had the rockets not been intercepted, they could have caused civilian casualties and great damage. All these details are important in order to understand why the Israel Air Force struck in Syria on such an unusually large scale.

Dozens of Iranian and Syrian military targets were bombarded in the Damascus area and near the border.

The attack was intended to serve as a warning for three groups: The Iranians and their proxies operating in Syria; Syrian President Bashar Assad and his army – who grant complete freedom of action and air defense to Iran's Quds Force extraterritorial operations; and a message to the Kremlin, who do not meet their commitment to Israel to ward off the Iranians and their proxies from the Israeli border.

The message for the Iranians is of the highest importance. It's a sign not only for Quds Force Commander Qasem Soleimani, but also for the Iranian leadership that Israel won't hold back, but react acutely to any violation of its sovereignty and will not be deterred from engaging in a large-scale campaign, maybe even a war, if Iran continues to establish a front against it in Syria, Iraq and probably Yemen.

Israel also wants to send a message that it aims to keep the conflict solely to military targets and not expand it to civilian areas and targets. Rocket fire is considered a red line that should not be crossed in Israel's perspective - so, one might assume that targets such as the Iranian Quds Force headquarters at the Damascus International Airport were attacked, although there's a reasonable chance that such an action could lead to casualties.

In the past, Israel usually tried to avoid from taking such measures except in cases where the Iranians attacked, or intended to attack, civilian targets in Israeli territory from Syria or trying to deliver high quality weapon systems to Syria.

Logistical facilities were also attacked, including the Shi'ite militias' rocket depots. It's important to stress that the message wasn't only directed at Soleimani and his people in the region, but also directly at the leadership in Tehran, which now faces widespread demonstrations with heavy casualties in protest over the worsening economic situation in the Islamic Republic.

Israel signals to the Ayatollah regime that it will not hesitate to go far, even as far as a full-scale war, if the Iranians continue to pester it from Syria.

Such a war could further exacerbate the economic burden on the regime in Tehran and could even jeopardize its survival. Some protesters in Iranian cities are already calling to stop spending precious budgets on pursuing ventures in foreign countries.
A message for Putin
The message for the regime in Damascus has been simple and consistent since the Israeli strikes began as part of the "in-between wars" campaign to prevent Iran from establishing itself in Syria and thwarting its program to improve missile and rocket accuracy in Lebanon and Syria.

This is an unequivocal demand from the regime and military in Damascus to cease providing assistance and protection to Iran's establishment in Syria and breaching Israel's sovereignty.

There is also a threat attached to this message - Israel will gradually destroy the military capabilities of the Syrian army and will extend the strikes to the regime's assets and symbols. That threat was realized overnight Wednesday.

The Syrians know and see that Israel hits and destroys their surface-to-air missile batteries as they fire at the planes and arms Israel launches at Iranian targets. Some of these state-of-the-art interception batteries were purchased for hefty sums from Russia. Their destruction weakens the Syrian army, damages its prestige and - above all - its ability to defend Syria's territory.

This gradual gnawing at Syria's air defense capabilities is not IDF's main goal, but a "bonus" to the aerial freedom of operation.

As for the Russians, Israel sends them two messages: Pointing out to them not following through on their promise to keep Soleimani's men and their emissaries away from the border and demanding that thy must follow through on this commitment, otherwise the IDF itself will be forced to carry out the task.

But the main message behind Wednesday's attack was telling the Russians that until the Iranians and their henchmen cease from their attempt to establish a ground front against Israel from Syria's territory - the Kremlin will not be able to achieve a ceasefire in the civil war in Syria.

Russia's main strategic and economic goal in the region is to reach a political settlement that will stabilize Syria. Putin wants to start re-building Syria as soon as possible, so that Russian companies and the Russian economy could benefit from it.

When Israel attacks, Syria draws farther away from stabilization, that is why Israel expects the Russians to put pressure on Assad. Wednesday's assault demonstrates to the Kremlin how necessary that pressure is.

Israel was also careful not to harm any Russian soldiers, civilians and interests and gave them a general warning of the attack through a coordination mechanism shortly before it was carried out.

However, another dark specter looms over Russian-Israeli relations and Netanyahu's Head of the National Security Council's trip to Moscow yesterday, accompanied by IDF officers, was intended to correct this. The Russians condemned Israel's activity in Syria, and it is not at all clear whether the target had been achieved.
The political potential
Defense Minister Naftali Bennett declared that the goal is "to make it clear to our enemies that they can't attack Israel without retaliation", all the while making sure that everyone knows he was personally involved in all the stages of decision-making and planning of the response to the Iranian rocket fire.

Bennett hinted that this response was extremely aggressive, rather than proportional like in the past, and that it constitutes a change of policy that he personally initiated as soon as he took office, and is a direct continuation of the policy that he recommended for Gaza when he was a member of the Security Cabinet.

Bennett estimated that several Iranians were killed in the attack, implying that Israel was ready to intensify and expand its retaliation and even embark on a major campaign if the Iranians and Syrians did not bridle their operations.

This statement is not factually accurate, because Israel has hit dozens of Iranian and Syrian military targets at once in the past in response to rocket fire or other Iranian attacks on Israeli territory. Iranian officers and military personnel have been killed in this kind of assaults before.

On the other hand, Netanyahu had issued a much less aggressive statement after the attack. His statement explicitly stated that the political instability would not stop Israel from doing whatever is necessary to prevent Iran's armament around its borders.

Blue and White party leader MK Benny Gantz has also repeated this message, showing that as long as it comes to the Iranian issue – Israel is united.

However, it is clear that both the new defense minister and the prime minister intend to milk any possible political benefit out of this situation and may play in their favor if Israel goes to the polling stations again.

These statements were intended for Tehran, Damascus and Moscow – but are also part of the next election campaign, which had actually already started.