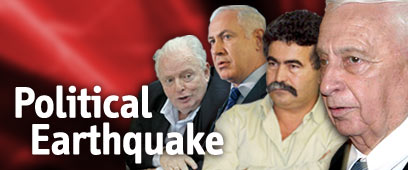 Planned ahead. Sharon
Photo: Reuters
At a dramatic press conference, Prime Minister Ariel Sharon announced his retirement from Likud, saying that the decision was taken the previous evening; but his claim was cast into doubt by a verbal slip up by Avigdor Yitzhaki, Director General of Kadima, the prime minister's new party.

A meeting of the party on Thursday exposed the truth – that contacts to establish Kadima began at least two months ago.

Breaking Away

Prime minister's new party registered Thursday morning; faction members convene in Tel Aviv. Party's attorney: This is historic day with great political significance for Israel; meanwhile, Sharon courting five more Knesset members

Yitzhaki said to those present, "So, as I presented this to the prime minister two months ago," before realizing he was making unnecessary comments. He froze for a moment, before continuing, and attempting to free himself from the error. One of those present at the meeting told Ynet: "We were embarrassed. The big secret is out. Sharon has been busy building a new party for two months."

A Ynet investigation has found that Sharon and Yitzhaki did indeed meet two months ago at the Prime Minister's Office. During their discussions, they spoke of the obstacles standing in the way of founding a new party to replace Likud. Among other things, the two spoke of the necessary moves needed to create the new party, as well as launching a campaign in time for early elections.

Yitzhaki attempted to convince the prime minister to resign from the Likud permanently and to begin a new path. "With this kind of Likud Central Committee, you won't be able to carry out your policy. It will paralyze the country," Yitzhaki told Sharon. However, the green light to set up a new party was only given to Yitzhaki at the start of this week.

Early talks

Sharon told Yitzhaki he would appoint him as its first director general, a role which would see him carrying out the plan they discussed back in September.

However, Sharon's strategic advisor, Lior Horev, has a different interpretation of events, saying: "During that meeting (two months ago) they spoke about the Likud. The claim that they talked about a new party is baseless."

Avigdor Yitzhaki resigned as director general of the Prime Minister's Office on May 26, and continued being Sharon's secret confidant. He told Ynet: "I refuse to comment."