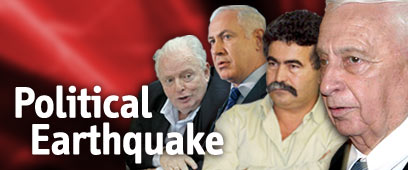 Now it's official: New party's documents
Photo: Gil Yohanan

In high spirits. Sharon
Photo: Reuters
Prime Minister Ariel Sharon's new party was officially registered Thursday morning, with faction members expected to later approve the new party's name – "Kadima" ("Forward" in Hebrew.)
An attorney acting on behalf of the new party, Yoram Raved, said: "This is a historic day with great political significant for the State of Israel."
The new party was registered by Tourism Minister Abraham Hirchson, Deputy Interior Minister Ruhama Avraham, and attorney Yoram Raved. The three arrived at the Party Registrar's office in Jerusalem at 9:30 Thursday morning and paid the new party dues, totaling NIS 74,807 (close to USD 15,000.)
Done deal: New party is born (Photo: Gil Yohanan)

The 16 faction members convened in Tel Aviv where the party's strategic advisors presented the new name. Initially, the meeting was planned to allow party members to discuss the new name, among other issues, but the name had to be approved retroactively, following the official registration.

Meanwhile, Sharon's new party is negotiating with five Knesset members in a bid to add them to the list of others who have already joined the party in the past few days, sources close to Sharon told Ynet.

"The deliberations are being held at a slow pace, which demands the utmost patience," a source said.

"We estimate that the new party will number 18 Knesset members upon its official registration; we are in a very good situation, and everything is going as we had anticipated."

Sharon, the sources said, is highly involved in the details of the current talks with the MKs; two of them are from Labor, two from Likud, and the fifth is a Shinui party member, they added.



Sharon party unveils logo (Kadima with Sharon)

The sources also reported that Sharon has been in high spirits ever since he announced his decision to split with Likud.

"He is pleased with the number of MKs he has been able to recruit to the new party, but he has yet to decide which additional ministers he will appoint to the interim government, if at all," a source said.

The sources said they estimate Sharon's party will eventually consist of 40-45 members, with 20 of them being current Knesset members.

The remaining party members will consist of municipal heads and mayors, members of the academia and other public figures.

In the past two days, the party's Director-General Avigdor Yitzhaki has been working on completing the logistic procedures in preparation for commencing the party's activities. Sources in the party estimated that the regular activity in Sharon's headquarters in preparation for the general elections will begin already next week.