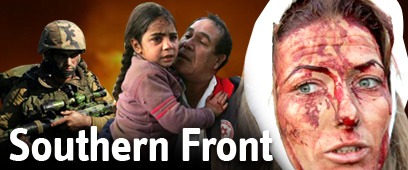 Under fire. Sderot
Photo: Amir Cohen
Palestinians in Gaza fired more than 30 Qassam rockets toward Israel since Friday morning. One of the rockets landed near a Sderot kindergarten, damaging a water pipe. No injuries were reported.
Residents of Sderot reported hearing loud explosions in the area, as the city's Color Red alert was sounded.
Military Might
Defense minister tours Gaza border fence area, promises military will bring an end to rocket fire by expanding operations in Strip
Earlier Friday, Palestinians fired five Qassam rockets at Israel: One rocket landed in Ashkelon's industrial area and another near Zikim.
Near noon, five more Qassam rockets were fired from northern Gaza, landing in open areas south of Sderot and the Sha'ar Hanegv Regional Council.
Eight mortar shells landed near Sufa Crossing and two more Qassam rockets landed near Hashikmim Farm.
Friday afternoon saw 18 more Qassam rockets fired at Israel, five of which landed near Netiv Ha'asara, causing a small fire. Two others landed near Kibbutz Zikim, south of Ashkelon.
Another Qassam rocket fired from north Gaza at around 4 pm landed near the western Negev community of Alumim. No injuries or damage were reported.
Thursday saw some 40 rockets fired from northern Gaza at Israel. Three of the rockets landed near Sderot, causing several people to suffer shock and mild Infrastructural damage; another three landed in open areas near the city.
A near miss. The rocket that landed near the kindergarten. (Photo: Albert Gabai)
According to a Friday report in Yedioth Ashdod local newspaper, the Color Red alert system has been recently installed in 10 communities surrounding Ashdod and the Lachish Regional Council, which are in a 16 mile radius from the Gaza Strip.
"At this point we do not intend to make the system operational," Yedioth Ashdod quotes a military source. "Should the government decide to make it so, the system will be up-and-running in a few hours."
Applying pressure
Israel sealed all border crossings with the Gaza Strip Friday, cutting off the flow of vital supplies to the besieged territory in an attempt to stop Palestinian rocket barrages on Israeli border towns.
A UN aency warned that the Israeli closure of the Gaza passages would increase hardship in the impoverished territory of 1.4 million Palestinians. Hamas threatened suicide attacks on Israel if it didn't end the sanctions and military raids.
On several occasions in recent months, Israel has reduced fuel and electricity supplies with the hope that Gaza's population would pressure the militants to stop the rocket fire.
The UN agency in charge of Palestinian refugees, UNRWA, condemned the Israeli move: "This can only lead to the deterioration of an already dire situation," said UNRWA spokesman Christopher Gunness.
UNRWA's leading official in Gaza, John Ging, said Israel had informed his office that the crossings would be closed for "several days."
Shmulik Hadad, AP contributed to this report