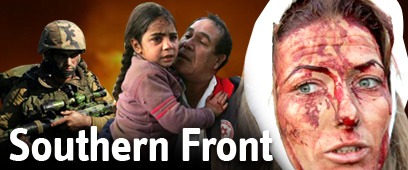 Home damaged in rocket attack (Archive photo)
Photo: AFP

Qassam in western Negev
Photo: Amir Cohen
VIDEO - Nearly 40 Qassam rockets have been launched from the norther Gaza Strip into Israel since Thursday morning. Three people have sustained mild injuries and a number of others suffered from shock.
In the last three days, more than 100 Qassam rockets have been fired into Israel along with dozens of mortars.
Video courtesy of info-live.tv
Hamas' Izz al-Din al-Qassam Brigades has claimed responsibility for most of the attacks.
Six Qassam rockets were fired from northern Gaza on Thursday afternoon, three of which landed inside the town of Sderot. Two residents were evacuated to Barzilai hospital in Ashkelon after suffering shock.
A heavy barrage of 11 rockets began at around 8 am, as Sderot's children were entering the local schools and kindergartens.
"I was just leaving the house for the school bus when the Color Red alert sounded off," a local high school student told Ynet. "We were lucky enough to have a fortified bus stop near us, so we all hid there until the bus came," she added.
Qassam rockets being launched towards Sdeort (Photo: Amir Cohen)
The number of students attending school in the battered town has been sharply decreasing. In an inquiry conducted by the Sderot municipality's education wing, it was revealed that only 54% of students have been arriving to classes in recent days.
Rockets all day long
Later in the day, two rockets landed in a residential area and caused damage to a number of homes, one of which is located near an elementary school. Another Qassam hit the city's industrial zone, while the rest landed in open fields.
At approximately 10 am, two more rockets were fired at Sderot. One landed near a vehicle traveling in the city, lightly injuring its two passengers. The second rocket landed outside city limits.
Another Qassam landed on a Sderot road at 10:45. A resident suffered from shock. More Qassams and mortar shells followed, landing near Nahal Oz – close to the Gaza-Israel border.
Prime Minister Ehud Olmert referred to the continuing rocket barrages in a speech to entrepreneurs in Tel Aviv saying "we shall continue fighting Jihad, Hamas and their allies with determination and without mercy or surrender."
In a related development, Egypt is apparently attempting to curb the smuggling of weapons emanating from the Sinai Peninsula into the Gaza Strip. Egyptian authorities reported that they confiscated 20 mortar rounds and 80 kilograms of TNT in the middle of the peninsula.
On Wednesday at least six people were hurt Wednesday evening after several Qassam barrages landed in and around Sderot and south of Ashkelon.
Five people suffered shock and a woman was lightly injured after being hit by a passing vehicle while running to take cover from the rockets.
Later senior defense officials told Sderot Mayor Eli Moyal that the rocket fire is expected to continue and even escalate further.
"They foresee an escalation," Moyal told Ynet. "They don't know when and how this campaign will end."