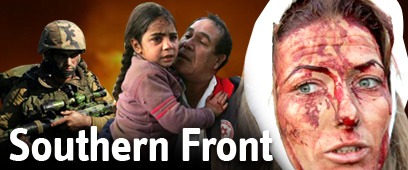 Barak. Promises calm, lauds IDF
Photo: Effie Sharir
Defense Minister Ehud Barak declared Thursday that the rocket fire on Sderot and the western Negev would stop.
Daily Barrages
(Video) Sderot hit hardest during early morning hours; three people sustained mild injuries in attacks, seven others suffer from shock. Sderot student attendance rates dropping significantly
Barak, who toured the area of the Gaza border fence accompanied by regional army commanders, could not say when local residents should expect this calm, but stated that the military operations in the Strip were scheduled to expand.
"The IDF will continue its ongoing operations and expand them in order to target Qassam launchers, until the rocket fire stops. This will not be simple and will not happen over the weekend, but we will see to it that the attacks on Sderot stop," he said.
Qassam lands near Sderot (Photo: Amir Cohen)
Barak praised the IDF and Shin Bet commanders in the region for their work in recent weeks, saying that the strikes in Gaza caused significant damage to the Palestinian terror organizations.
"Our heart is with the people of Sderot and the Gaza vicinity who are goןng through trying times," he said. "The situation is very difficult on the other side, and things on our side aren't easy too."
Commenting on the need of local farmers to maintain work routine along the border, Barak said that the security forces would do whatever was needed to protect farmers and enable them to continue cultivating their land.