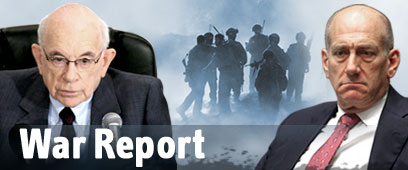 Reserve soldiers during war (Archive photo)
Photo: Ronen Boidek
Despite the release of a generally critical report on Wednesday that endorsed key decisions Ehud Olmert took during the 2006 war in Lebanon, a group of reserve soldiers who took part in the campaign are calling in him to resign, while others contend that Israel should now focus on returning kidnapped IDF soldiers Eldad Regev, Ehud Goldwasser and Gilad Shalit.

Supporting the PM

'No one in Kadima will rise against the prime minister,' vice premier tells Ynet, 'Winograd report will be history by next week'

"To us, the reserve soldiers who fought in the war, one thins is clear: Our trust cannot be regained," First Sergeant (res.) Lior Dimenes told Ynet. "The prime minister lacks the moral authority to send us out to battle again."

Dimenes, who belongs to the Alexandroni Brigade, called on Defense Minister Ehud Barak to work toward ousting the prime minister. "The report clearly states that Olmert and the political echelon failed. Barak should initiate political moves and find a way to have the PM replaced," he said.

Fellow Alexandroni Brigade member Major Roi Fashchur reiterated his comrade's call for Olmert's resignation, and added that he did not believe Israel drew the necessary lessons from the war.

"When I look at what is going on in southern Israel, I don't see any that any lessons have been learnt," he said. "It is true that the IDF began a process of rehabilitation, but it was stopped. The residents of the south sustain missile strikes every day, and the entire (military) concept along the Philadelphi Route collapsed when Hamas breached the Gaza-Egypt border. No lessons have been learnt. Something is wrong here."
'They didn't take a wrong turn somewhere'
Regev and Goldwasser's friends closely followed the Winograd press conference. First Sgt. (res.) Moti Ma'arvi said the report did little to abate his frustration with the stagnant efforts to secure the release of the two soldiers.

"One of the clauses in Resolution 1701, which brought about the ceasefire, is the return of the hostages. If that hasn't happened, then it's a problem and now we're already a year and a half after the kidnapping. They forget that there are two soldiers captive in Lebanon and another in Gaza," he said.

Sgt. Maj. Shai Shankman, who served with Regev and Goldwasser in their mandatory service days, added that the State must take responsibility for the fate of its missing soldiers.

"If they were to say that there are negotiations, that there's a process – fine," he said. "They didn't take a wrong turn somewhere, they were called to reserve duty, something that few citizens are in the habit of answering. They were abducted while on a defense mission and the State won't bring them back.

"For the sake of argument, Olmert is the State. He's the one pushing the red button, he dictates the pace of things. And besides him there are also (Foreign Affairs Minister) Tzipi Livni, the current IDF chief of staff (Lt. Gen. Gabi Ashkenazi) and the current minister of defense (Barak). These are the people who need to take assume responsibility… Livni should be the one hopping planes instead of the families, the chief of staff should be drawing up operational plans and not plans for the drawer – we should be thinking about how to get them out of there now, and the prime minister must be a lot more creative."

Tal Rabinovsky and Reuters contributed to the report