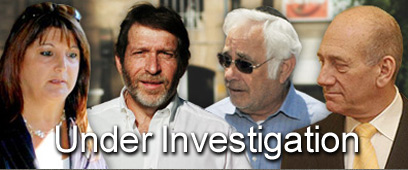 Ben-Eliezer. Does not fear elections
Photo: Alex Kolomoisky

Cabel. Dictate events
Photo: Yaron Brener

Barak. To hold press conference
Photo: Ehud Barak

Zilberstein. Olmert won't resign
Photo: Oren Agmon
Labor minister: Olmert must take leave of absence
Members of Kadima's main partner in coalition call on Defense Minister Barak to declare that prime minister must leave office following US businessman Talansky's pre-trial deposition. Senior minister: Israel's problems are too serious to leave the situation as it is. Barak expected to hold special press conference Wednesday to address issue
The Labor Party must lead a move of leave of absence by the prime minister in order to allow the State to function, a senior party minister told Ynet on Wednesday morning, referring to the possibility that the party's chairman, Defense Minister Ehud Barak, would call on Prime Minister Ehud Olmert to resign.

"The problems of a sick woman of a certain person cannot shake an entire country for a month and a half, and who knows for how long," the minister said, addressing the expected delay in the legal proceedings due to key witness Morris Talanky's desire to fly back to the United States to see his ill wife.

Opinion

Talansky testimony paints shocking picture of Olmert's conduct, lifestyle

"The State Prosecutor's Office must speed up its work. The problems Israel is facing are too serious to leave the situation as it is," the minister said.

Barak was expected to hold a special conference at 1:30 pm Wednesday and to address the issue.

Some of Labor's ministers, including Chairman Barak, met Wednesday morning as part of a discussion held by the National Security Cabinet regarding the security arrangements needed in a future agreement with the Palestinians.

The ministers were occupied with Tuesday night's media reports on a possibility of a move coordinated by Barak and Foreign Minister Tzipi Livni of the Kadima party. At this stage, Labor minister are not speaking out openly, but are holding frequent meetings and discussions among themselves and with their party chairman.

On Tuesday evening, Barak held many phone calls with his colleagues in the Labor faction in order to hear their views. Following the National Security Cabinet meeting, party officials will decide whether to hold an official meeting following the embarrassing details revealed Tuesday in the pre-trial deposition of US businessman Talansky, who is suspected of bribing Olmert.

Most ministers believe that the party must call on the prime minister to suspend himself or take temporary leave of absence. Meanwhile, senior party members called on Barak not to remain silent and to make an ideological statement.

Labor Knesset Member Eitan Cabel said Wednesday that his party must do something instead of standing aside. "In light of the recent events, we must dictate the actions rather than be dragged," Cabel said.

MK Cabel added, "We must lead a move among the Israeli public and make a statement which may eventually bring us to a situation in which the Knesset's summer session is nothing more than a corridor for early elections.

"I already said after Winograd (report on the Second Lebanon War) that we must quit, and the recent events with the latest affair only strengthen this need."

Cabel's colleague, MK Danny Yatom, also said something must be done. "There is no room for an ideological statement alone. There is room for an ideological act. If Olmert doesn't take leave of absence, Labor must leave the government."

Minister Ami Ayalon told Ynet on Wednesday that Olmert "should draw the necessary conclusions from Morris Talansky's deposition. If he fails to do this – the Labor party will work towards pushing up the elections."
Ben-Eliezer: Kadima facing difficult decisions
Infrastructure Minister Binyamin Ben-Eliezer said Wednesday that "Kadima must take responsibility and make difficult decisions. I am not ruling out an election campaign. The problem is of a person who I hope manages to prove his innocence and is acquitted. The problem is Kadima's and Olmert's."
He added, "I suggest that we all wait for Ehud Barak's statement this afternoon. I am certain and convinced that his remarks will be clear. From a legal point of view, as long as there was no cross examination, the prime minister cannot be judged. I hope the legal system does all in its power to end this affair."
Ben-Eliezer went on to say that "in today's public reality, the prime minister must stand up and provide the people with explanations. This is a reality we cannot ignore. The problem is first of all Kadima's. It must move forward with one of the most complicated and difficult questions and make decisions.
"We do not fear elections even tomorrow morning, but today's security reality and diplomatic reality have a great national importance. The responsibility lies on Kadima's shoulders. It must self examine itself and decide what to do."
In an attempt to estimate what will happen in the political system in light of the developments in the Olmert-Talansky affair, Ben-Eliezer said that "there will be developments in the entire political system. No party will remain silent. Something happened here, whether we like it or not.
"Whether Ehud says it or not, Kadima will have to make a decision on its fate and on the prime minister's fate. Elections are the last thing I would hope for from a security point of view, but we are not afraid."
Barak: I find it difficult to sit at government table
Minister Barak said in a closed forum Tuesday night that "I find it difficult to sit at this government table. I did not hide my indecision in the past. I had doubts before the Winograd Report was released…I did not conceal my opinion."
Labor MK Ophir Pines-Paz called Talanky's testimony "shocking" and said that "if Olmert stays in office under the current circumstances, it would be very harmful for the State of Israel."
He added that the Labor Party must end its partnership with Olmert. "The price of waiting for a formal indictment will be very expensive for the State and the party," he said.
Sources in the political arena have claimed that strategist Reuven Adler was behind Barak's current move. Adler, Barak's neighbor in a luxurious Tel Aviv apartment building, was a close advisor to former Prime Minister Ariel Sharon.
Knowledgeable sources have claimed that Adler also serves as the confidential advisor of Foreign Minister Livni. If Barak calls on Olmert to take leave of absence, Livni will become acting prime minister and the Knesset will not face early elections.
Sources close to Barak have rejected the claim that Adler was involved in the move, but other sources insist that the move is being coordinated by Adler, Barak and Livni.
PM's advisor: Barak should look in the mirror
Olmert's media advisor Tal Zilberstein said Wednesday that he had spoken with the prime minister and that the latter "has no plans to resign or declare temporary leave of absence."
In light of the defense minister's expected press conference, Zilberstein noted that "Ehud Barak is a political person and represents a large party. It is his full and legitimate right to resign today, to compete in the elections, to lose or to win."
Zilberstein, who worked with Barak at the end of the 1990s, hinted that he has information which could be used by Olmert in a future battle against the Labor chairman.
"Barak is one of the last persons who can talk about cash and envelopes," he said. "When I heard him this morning express his disgust over Talanky's deposition, all I could say was that there was a limit to cynicism.
"Politicians should first of all take a look in the mirror. There are many politicians who have their own Talansky, and I am speaking in general terms. There is a reason why we haven't heard politicians discussing this. Almost every person who ran for a senior position in the State of Israel raised funds.
"I suggest that all those engaged in populism at this time, attempting to reinvent ethics, take a good look in the mirror and examine themselves. This is a clear statement, which relates to Barak and others."
Addressing the atmosphere among Olmert's aides, Zilberstein said, "These are unpleasant and painful times. I believe the man and his family are being subject to injustice. We should be very careful and wait for the cross examination on July 17, in order to see whether a criminal offense has been committed."
Amnon Meranda contributed to this report