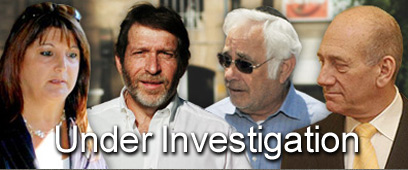 Pulling all stops. Mazuz
Photo: Gil Yohanan

Full throttle. Lador
Photo: Gil Yohanan
Attorney General Menachem Mazuz announced Thursday that the investigation into Prime Minister Ehud Olmert's involvement with American businessman Morris Talansky would be separated from the other ongoing police investigations held against him.
State Prosecutor Moshe Lador and several senior police officers arrived at the attorney general's office Thursday morning to discuss the case's progress with Mazuz.
In a Bind
PM's associates call Barak's demand that Olmert resign or suspend himself 'cynical', say move aimed at destroying Kadima
The meeting ended with the pivotal decision to detach the various investigations involving Olmert – the first looking into his conduct when he was trade, labor and industry minister; the second examining his involvement in recent corruption allegations in the Israeli Tax Authority; the third being the Cremieux affair – probing a possible illicit bid Olmert made on Jerusalem real estate; and the forth probing the sale of core holdings in Bank Leumi – from the Talansky case.
The Justice Ministry has instructed the National Fraud Unit to proceed with its investigations accordingly; and with the Talansky affair as their main focus, the police are expected to be able to go about the probe in full throttle. Once all the stops are pulled, the decision on any future indictment in expected to be made sooner, rather than later.
Labor Chiar and Defense Minister Ehud Barak, meanwhile, received the full support of his party for his bid to oust Olmert form premiership: "The good of the State must come first. The call is in Olmert and Kadima's court," said a Labor source.
The party trusts the overall mood following the recent developments in the case will indeed lead to early elections; but Barak has made it clear he would rather see the coalition come together in support of whoever Kadima selects to take over from Olmert.