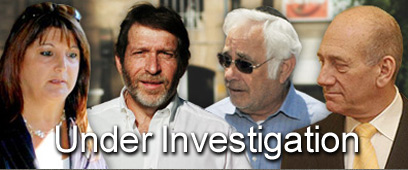 'Continuing to run the country.' Olmert
Photo: Reuters

'Talking nonsense.' Barak
Photo: Flash 90
"The citizens of Israel often hear Ehud Barak's nonsense, which amounts to nothing," an associate of Prime Minister Ehud Olmert said on Wednesday in response to the defense minister's demand that Olmert 'detach himself from the daily management of the government' due to the ongoing bribery investigation against him.

Labor Head's Statement

Defense Minister Ehud Barak says he believes prime minister cannot run government, his personal affairs at the same time. In special press conference, he calls on Olmert to detatch himself from management of State as soon as possible

"The prime minister is strong and he will weather this storm as well," he said, "Olmert is continuing to run the country and believes that he will be able to prove his innocence through (key witness Morris Talansyk's) cross examination."

Earlier Barak, who heads the Labor Party, said the PM cannot run the government and his personal affairs at the same time and urged him to either suspend himself, go on vacation, resign or take a leave of absence.

Other Olmert aides referred to Barak's move as "cynical", saying it was aimed at destroying the Kadima party.

"There cannot be a situation in which the testimony of one person causes such a political storm," an official in the PM's Office said.

"It's not easy to deal with the verbal onslaught and the headlines, but things will look difference after the cross examination in July."