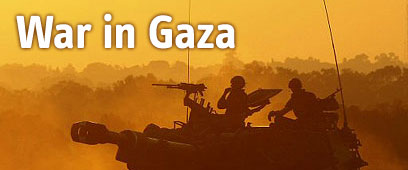 IAF strike in Gaza
Photo: Reuters

Yoav Galant tours Strip
Photo courtesy of IDF Spokesperson's Unit
While the IDF is beginning to sense that Operation Cast Lead is nearing its end, forces on the ground had one of their most successful days Tuesday since the offensive in Gaza began some two-and-a-half weeks ago.

Palestinian Death Toll

Medical officials in Strip say more than 940 Palestinians killed in Israeli offensive. Deep ground incursion made it impossible for residents to reach Martyrs Cemetery in Gaza City; gravedigger: Gaza is all a graveyard

"On the ground no one speaks of end dates, but it's safe to say that the forces can sense that the operation is coming to a close," a military official said, "on the other hand, we are well-aware that the situation can change and that the operation will go on, so our job is to continue to strike Hamas, and that's precisely what we're doing."

According to the IDF, more than 40 gunmen were killed in Gaza on Tuesday in a number of gun battles and encounters with army forces, as well as from aerial strikes and artillery fire. During the day Israeli forces discovered anti-aircraft weaponry and other arms in a mosque located in the Zeitun neighborhood on the outskirts of Gaza City, as well as an underground tunnel that was dug on the Palestinians side of the Nahal Oz fuel terminal, which was meant to be used to carry out a terror attack in Israel.

Army officials said the tunnel was dug before the war began as part of Hamas' preparations for a conflict with Israel, and suspect there are more tunnels in the area.

Following the deployment of reserve soldiers in Gaza, regular army forces were freed up to conduct raids around Gaza City, during which several clashes with Palestinian gunmen were reported.

During a tour of IDF positions in Gaza Tuesday night, Southern Command Chief Major General Yoav Galant and Golani Brigade commander Colonel Avi Peled were briefed by Engineering Corps forces on the numerous underground tunnels and booby-trapped homes they have uncovered.

According to the forces, the explosive devices placed in numerous Palestinian homes throughout the various neighborhoods are connected in such a way that the detonation of one bomb can simultaneously set off the rest.

Soldiers said RPG launchers were found in many homes and that terrorists were carrying large amounts of explosives on their bodies.

Also on Tuesday, Israel's Air Force struck more than 50 targets in Gaza, including some 25 tunnels and eight rocket launching sites. In a joint operation with ground forces, helicopters hit 10 terror cells.

On Monday night an IDF officer was critically injured after an explosive device blew up inside a booby-trapped building in northern Gaza. Two other soldiers were lightly-to-moderately wounded in the incident. Forces later found weapons at the place. Two more soldiers sustained mild injuries Tuesday afternoon when gunmen opened fire at an army bulldozer in south Gaza.