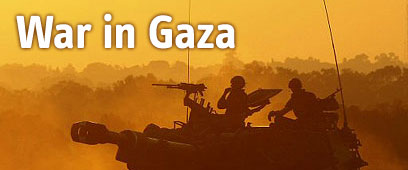 Sheik Radwan cemetery
Photo: AP
After three infants from the Samouni family were killed in shelling, relatives bundled up the boys' tiny bodies and hastily buried them in the grave of a long-dead aunt.

There was no space in the crammed Gaza City graveyard and it was too dangerous to reach the area's only cemetery with space to dig fresh graves.

More than two weeks into a blistering Israeli offensive that Palestinian medical officials say has killed more than 970 Palestinians, Gazans are struggling to find places to bury their dead. One family buried their slain son with his grandfather. Another man was buried with his cousin. Cemeteries throughout Gaza City that were closed for burial have now reopened.

"Gaza is all a graveyard," said gravedigger Salman Omar, who said he has been busy since Israel's operation began.

The densely populated Gaza Strip, just 25 miles (40 kilometers) long by about 6 miles (10 kilometers) wide, has always suffered from a shortage of burial space. But Israel's shelling and deep ground incursion has made it impossible for residents to reach Martyrs Cemetery, the only open graveyard in eastern Gaza City, at a time when there's a rush of people needing burial.



'Bury them in the same grave.' Gaza cemetery (Photo: Reuters)

Israel's offensive is aimed at crushing Gaza's rulers, the militant group Hamas. But Palestinian medical officials believe roughly half of the dead, including the Samouni cousins, are civilians.

"We buried them quickly," said Iyad Samouni, 26, from al-Awda hospital in Gaza City, where he was being treated for shrapnel wounds. "We were afraid we'd be shelled. My relatives were trying to open other graves to prepare for the other dead but we didn't get time."

Samouni said the family fled the graveyard after they came under fire from a warplane.

The children were killed in what the family and the UN says was an Israeli shelling attack on a house in eastern Gaza where soldiers had ordered them to stay to avoid nearby fighting.
'A policeman in his mother's grave'
A whole part of the clan was wiped out. The exact number is unknown; figures vary from 14 to 30 people. Medics believe there are still bodies they have not been able to recover more bodies under the rubble because of fighting in the area.

Israel's military denies the account, but says the house may have come under attack in crossfire with Hamas militants.

Muslim tradition allows for graves to be reused when needed. Old graves conceal small underground rooms used in Muslim tradition to bury the dead. Mourners pull away a covering slab, push the bones of long-deceased relatives aside and lower in the newly dead.

"You have a martyr: you need an immediate solution," said Omar, the gravedigger at Gaza City's Sheik Radwan cemetery. The site is meant to be closed to new burials, but is filled with men carrying in bodies for burial. In Muslim tradition, women rarely attend to graves.

"You look for where your grandmother, uncle or mother was buried, and bury them there. If there are three or four, bury them in the same grave," said Omar, who spoke while shoveling earth and smoking a cigarette. Like most Gazans, he calls slain Palestinians martyrs.

At Sheik Ridwan on Tuesday, relatives hammered away at the concrete tomb of Moyhideen Sarhi, killed last May in an Israeli strike against Hamas militants. His brother Kamel, 22, another Hamas militant, was killed on Tuesday in another airstrike. The family feared approaching Martyrs Cemetery and made do by laying Kamel next to his brother.

"As they were in life they are in death," said their cousin, Salim, 28.

Before they lowered the body, the men pushed aside the slab protecting Mohyideen's remains from dirt and reverently kissed his shroud.

Even the pathways in the hilly cemetery are littered with graves.

Older graves have marble slabs, when Gazans buried their dead in more affluent times. Relatives of the more recently buried make do with a small tile, or a name etched in concrete. For others, there's no name at all, just the tombstone of the older relative whose grave was reoccupied with the newly dead.

One family arrived with their son, 14, who they said died of wounds in an Israeli strike.

A gravedigger approached, asking if the family had a deceased relative whose grave they could reopen. Street children hoping for small change scrambled to look for the graves of relatives the family could use.

Another group of men in jeans dug up their grandfather's grave. The loud crashing sound of an Israeli airstrike nearby made some of them wearily look up. Their relative, Mohammed Abu Leila, was a militant killed in a strike.

"I've buried a policeman in his mother's grave," said Omar, the gravedigger. "I buried three brothers in one hole. I buried children with their mothers, you don't ask questions: it's just important to find a place and bury them."