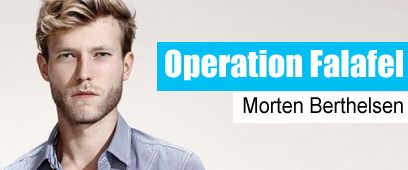 Israeli breakfast - for lunch, dinner, or even at 3 am (archives)
Photo: Shutterstock
One of the joys of an Israeli breakfast is that you can have it for lunch. Or dinner. Or even at 3 am, when you are out of a bar and somehow a massive plate of eggs and cheese seems like a great idea.

Previously on Operation Falafel

More than one million tourists float past Dead Sea every year, and what are they offered after their sweaty hike or salty dip? Pre-packaged sandwiches, self-service buffets, and Bamba

But most non-drunk people like to indulge on a Friday, when getting a table at a Tel Aviv café is like getting a place on the last helicopter out of Saigon.

Here are 10 ingredients for an Israeli breakfast:

1. Eggs: The absolute must-have. Fried, scrambled, poached, omelette, Benedict, hard-boiled, soft-boiled, yolk-free, in a sauce, with herbs, without herbs, spicy, salty, sweet. If you can do it to an egg, you can find it on a menu somewhere in Israel.

2. Homemade jam: The more unusual the better. I've never seen anyone ever eat the jam, but it gives chefs a chance to make something other than eggs. The most bizarre I've been given was kumquat and coriander.

3. Salad: Obviously. It wouldn't be Israel if your meal didn't come with an explosion of leaves, cherry tomatoes and cucumbers. They are everywhere.



Cherry tomatoes. They are everywhere (Photo: Michal Waxman)

4. Side salads: This is where the real differences are apparent to the breakfast connoisseur. People will boycott a restaurant solely for its choice of mayo in the egg salad, or walk for miles to tuck into a particular eggplant dish (Noa's is so good, I asked for the recipe). You generally get enough of each one to fill a teaspoon.

5. Fish: Tuna or salmon. Why is it always tuna or salmon? Mackerel, herring and kippers would be a welcome addition, people.

6. Fresh juice: Lemon, grapefruit, orange and carrot seem to be the staples, usually squeezed to order. Note: If they try to tell you that it's not squeezed on site, but definitely did at some point undergo some kind of extraction process – ask for a coke.



(Photo: Morten Berthelsen)

7. Cheese: The three-cheese rule states that every Israeli breakfast must come with at least three cheeses. And at least one of them has to be labane.

8. Bread: Again, homemade. Bread also means croissants and cake, but sadly never rye. We'll be revisiting this subject soon.

9. Coffee: Most places have fantastic coffee, putting Paris and Rome's offerings to shame, and are happy to serve yours at whatever point in your meal you choose. Downside is it's never refillable. They should work on that.



Fantastic coffee (Photo: Dror Katz)

10. Bacon: Sometimes, if you're feeling dangerous. I suppose it's a bit of a chutzpah to expect Jews to not only offer bacon, but cook it properly as well. Soggy bacon is a cardinal sin, and you can save your soul with just another five minutes on the grill.

So how do the cafés and restaurants themselves measure up? A hard few weeks of tasting yielded the following results:
Brasserie
The Frenchness oozes out of everything from the bowls of coffee (a perfect alternative to the no-refills policy) to the croquet-madame, a divine toasted sandwich of ham and cheese with fried eggs balanced on top. The cheese plate is a bit meager – a tiny bowl of cottage cheese, a tiny strip of yellow cheese and a blob of labane is not minimalist, it's rubbish.
But everyone in Israel should give thanks to the Brasserie, both for the alcoholic addition to the Israeli breakfast (their idea), and for being one of the very few places that serves breakfast in the middle of the night (presumably subscribing to the very European theory that your business is never as good as when your clients are drunk).
Frenchness oozes out of everything. Brasserie (Photo: Morten Berthelsen)
Noa
The most varied and distinct menu in the most interesting setting. With the eggplant salad, but also the pomegranate cocktail and the salmon roe, Noa takes the traditional breakfast ingredients and uses them to create something special. Especially the eggs in a nest – a fried egg cooked inside a slab of brioche with more butter than is strictly good for you.
The only downside was the strange pickled sardines. We Scandinavians know fish, and fish should taste like it once swam in the water and breathed through its gills.
(Photo: Morten Berthelsen)
Reviva & Celia
A perfect of example of how to make a great simple breakfast. The range is quite small and the servings too, but when you do it this well, quality definitely beats quantity. It's hard to find any fault with this breakfast, that probably serves the best salad in town as well. Even the macaroons at the fantastic cake bar are delicious, and come in jumbo sizes.
Best salad in town? Reviva & Celia (Photo: Morten Berthelsen)
Dallal
Like Reviva & Celia, this place takes a simple meal, in this case bourekas, and turns it into a feast. You can buy a stuffed giant bourekas almost on every corner, but not one that tastes like this.
(Photo: Boaz Lavi)
Their master stroke is the DIY breakfast though. The diner orders exactly the breakfast he or she wants - no fuss, no waste. Genius, delicious genius. And after your made-to-measure repast, you can nip next door to the bakery (owned by the restaurant, but run independently) and top it all off with a cream cake or genuinely aphrodisiacal tiramisu.
Bourekas turned into a feast. Dallal (Photo: Boaz Lavi)
Landwer
Even though it is not as high end as the other places, and a chain (an anathema to Tel Aviv's image conscious residents), the Landwer breakfast more than holds its own. The standard fare of eggs and cheese becomes a delight in the form of the Farmer's Breakfast – adding leeks, spinach, mushrooms and goat's cheese to your omelette.
Hugely popular in spots where other eateries have failed, the place manages to combine a comfortable setting with a busy, vibrant atmosphere.
Farmer's Breakfast. Landwer (Photo: Morten Berthelsen)
And if none of that makes you hungry, there's always hummus.
The breakfasts that made it into Morten's guide:
Hotel Montefiore, 36 Montefiore Street, Tel Aviv
Reviva & Celia, 10 Nissim Aloni Street (G Center), Tel Aviv; 1 Hameyasdim Street, Ramat Hasharon
Rama's Kitchen, Nataf
Manta Ray, Alma Beach, Tel Aviv
Dallal, 10 Shabazi Street (Neve Tzedek), Tel Aviv
Yona, Jaffa Port
Brasserie, 70 Ibn Gvirol Street (Rabin Square), Tel Aviv
The Landwer chain
Noa Bistro, 14 Hazorfim Street, Jaffa

Next time: Morten laments the lack of pork in Israel.