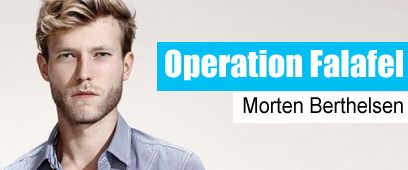 From all your heart and soul? Meatballs at Biankini
Photo: Morten Berthelsen
Visiting the Dead Sea is by any measure a bizarre experience. Wonders of nature and history and peculiar buoyancy aside, what is really mind-blowing is the amount of life surrounding this purported strip of death. You'll see dragonflies, hyrax, ibex, German tourists. What you will not see is a proper meal.

Previously on Operation Falafel

Before he came to Israel, Morten Berthelsen thought hummus was a purely vegan thing, but three years in the Holy Land have turned him into an addict. Now he selects outstanding hummus places to include in the travel guide he is writing

Because the Dead Sea is only dead in a culinary sense. By all accounts, more than one million tourists float past here every year, not to mention the hordes of natives who pass through. And what are they offered after their sweaty hike or salty dip? Pre-packaged sandwiches, self-service buffets, and Bamba.

Mind you, I am not talking about the post-apocalyptic wasteland that is Ein Bokek. Firstly, because it isn't the Dead Sea any more (thanks, Dead Sea Works!) Secondly, because of McDonald's, which somehow manages to combine the grimness of every McDonald's in the world into one greasy, sticky location. And thirdly, fun fact: Aroma is listed on TripAdvisor as the best restaurant in the Dead Sea Region. Ima-leh!



Buffet will bring to mind visits to hospital (Photo: Morten Berthelsen)
Don't worry, I am not going to touch the Bamba, for I have learned it is sacred. The pre-packaged sandwiches... I shall also not touch, but more for fear of salmonella. And the buffets. The goddamn buffets. Let us speak of them.
The buffet at the Kibbutz Ein Gedi guesthouse is simple, and the setting cafeteria-like, but it passes. At Ein Gedi's main beach, the austere buffet at Pundak Ein Gedi will bring to mind visits to a relative in hospital.
Eating the food at Masada Guest House is an entirely new way of being robbed.
NIS 70 to enter beach restaurant
But the one that will really get to you and your trusting, hungry stomach, is the buffet at Biankini & Siesta Beach, at Kalia in the north of the Dead Sea.
The Lonely Planet, in traditional blind enthusiasm, called it a "Moroccan paradise." If the abandoned military barracks dotting the barren landscape didn't sound a slight alarm (it's just the Israeli experience, I told myself), paying NIS 70 (about $18) or more before even entering the restaurant should have (it's just the way they do it, I told myself).
Maybe the hundreds of screaming birds in the tree next to our table should've warned me, like canaries in a coal mine. But they're birds, what do they know? Should have listened to the birds.
Owner Dina Dagan promises on the restaurant website that the food she cooks is "from all my heart and soul." Traditional Moroccan dishes, granted, but I highly doubt it is what Dina serves at home, soul or no soul (I'll go with no soul).
The buffet is neglected, to say the least, with a centimeter-deep crust in every single pot. On a Saturday night. But I was hungry, so I endured. And the empty stomach is a tough adversary.
Should have listened to the birds. Biankini (Photo: Morten Berthelsen)
The truly pleasant oriental setting soon took second place when I realized that the meat on my plate wasn't fresh. Is there water to wash down this feast? The waiter pointed at a tap and mumbled.
Coffee was also self-service. And the sugar bowl was alive. No working tap on the restroom sink is surely good for the environment, less so for somebody who's spent a day at the Dead Sea. And trying to force the leathery meatballs down with bottled Coke was the last bad call. The plastic bottles had a printed date in 2013, but that was obviously not actually the case.
Let's just say it is not going in the book.
Yearning for Bamba
A place like this only makes money for lack of a better option. There shall be no excuse for the dire experience of overpriced and overcooked bilge posing as food at Biankini, nor for the disgrace that is the selection and quality of food available at one of the most visited attractions in the country, for tourists and Israelis alike.
On the way back I yearned for Bamba, or anything my body would respond to with gentle familiarity. A shot of Fernet Branca was surely the only proper self-defense.
What am I to recommend to travelers? Bring your own food and use the fridge? Bring your own food and wood and make a fire? Go to Arad? Jericho? Jordan?
There simply is no decent choice, so tourists choose the full board at their hotel as a kind of solution. The Dead Sea is swarming with hot, dehydrated, hungry and free-spending visitors, literally in their millions, and nobody wants to feed them.
Is this a test? Where's the Olive, the Benedicts, the family restaurants with a damned menu? Even the food at Last Chance on Route 1 is better, by several margins even, and it's a rest stop for crying out loud!
No decent choice. Dead Sea (Photo: EPA)
Why is this? Is the Dead Sea not a guaranteed gold mine? Is it because of building permits? A monopoly? The mob? Because the pond will evaporate in a few decades? Why?
And don´t give me environmental concerns. If it were up to me, the whole area would be sacrosanct. Bathing, yes. Dead Sea Works, no. And in any case, a few good eating options would see a lot fewer plastic sandwich wrappers around.
So let this be a call to arms. Open up a restaurant with a menu. Seat 100 people. See it soar. Have business round the clock. Get rich, or die starving.
Next time (as per readers' request): Morten selects Israel's recommended breakfasts for tourists.