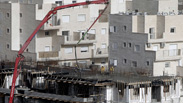 'There are no new homes, just new declarations and old condemnations'
Photo: AFP
On the eve of the start of peace talks with the Palestinians, Prime Minister Benjamin Netanyahu was faced with a difficult choice: Freezing settlement construction or releasing prisoners. Abbas requested, the Americans demanded, and Netanyahu found himself forced to make a decision between the two on his own.

Prisoner Release

Op-ed: Murderers released this week will likely be the only ones to enjoy Israel's concession

Netanyahu made the first mistake four years ago when he agreed to a general freeze in construction beyond the Green Line. In Israel there is a wide consensus over the status of Jerusalem, the Golan Heights and the main settlement blocs. Over the rest there is a disagreement. Clinton and Bush recognized that, but Obama wanted a general, freeze, indiscriminately – and Netanyahu was forced to accept against his will.

Netanyahu made the second mistake when he chose to release prisoners with blood on their hands. A construction freeze involves a reversible political price – while the release of terrorists involves an irreversible ethical price. Both decisions contradict Israeli statements and interests. And they both stem from the lack of a clear policy.

Linking construction bids to the release of terrorists is a third mistake. Israel should build in Jerusalem and in the settlement blocs because that's the policy – not as compensation for the release of terrorists. It should argue with Washington about principles – not about gestures. We are fooling ourselves. Releasing prisoners and releasing tenders. There are no new homes, just new declarations and old condemnations.

On the eve of the third stage of the terrorist release, matters cannot be restored to the way they were previously, but a clear policy can be created for the future. Netanyahu is more practical than most politicians surrounding him, but his big difficulty is the political solitude. Israel's maneuvering area is limited. His political maneuvering area is even more limited.

The real dialogue taking place today is not between Israel and the Palestinians, but between us and the Americans. They are the important element. The gestures are done towards them, and the decisions are made with them. Progress will be determined there too. Contrary to the cliché, in the Middle East negotiations are not held with enemies – but with friends.