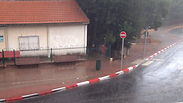 Israel likely will announce new plans for construction in Jewish settlements next week, an official said Wednesday, a move that is likely to trigger an international uproar and threaten peace talks with the Palestinians.

The timing of the announcement would coincide with the expected release of a group of Palestinian prisoners. The government has announced new settlement construction plans during previous prisoner releases to blunt domestic criticism.

Related stories:

The Israeli official said he "expects" an announcement on new construction next week, but declined to elaborate. He spoke on condition of anonymity pending a formal announcement.

Israel's Channel 2 TV said Prime Minister Benjamin Netanyahu planned to announce "massive construction" next week. Channel 10 TV spoke of 1,000 to 2,000 new homes. Both reports cited anonymous officials close to the prime minister.

Wasil Abu Yousif, a Palestinian official, said the expected announcement is evidence that Israel is "not serious" about pursuing peace.

"It's clear to everyone now that the Israeli government is killing the peace process." While stopping short of threatening to withdraw from the current round of peace negotiations, he said Israel's policy would force the Palestinians to seek "more substantial alternatives."

Israeli construction in the West Bank and east Jerusalem has been a major source of tension in Mideast peace efforts. More than 550,000 Israelis live among 2.5 million Palestinians in these areas, raising fears that the growing numbers will soon reach a point of no return that will make it impossible to partition the land.

For years, the Palestinians refused to negotiate with Israel while settlement construction continued, saying it was a sign of bad faith. But under heavy US pressure, the Palestinians reluctantly agreed to resume talks with Israel last summer.

Under a US-brokered package, Israel agreed to release 104 long-serving Palestinian prisoners. The releases, taking place in four stages, have caused an uproar in Israel because the prisoners have been convicted in deadly attacks on Israelis. Next week's release would be the third stage.

While Israel did not agree to halt settlement construction, US Secretary of State John Kerry has urged restraint. During one visit to Israel, he questioned Israel's commitment to peace in light of the ongoing construction. Because of the Christmas holiday, there was no immediate American reaction Wednesday.

The international community considers Israeli settlements to be illegal or illegitimate. The European Union said last week it had asked Israel not to announce new construction in connection with the prisoner release, warning Israel would be held responsible for a resulting failure in peace talks.

The Israeli official said Israel is "strictly abiding by understandings reached in the framework of this round of negotiations."

The talks are scheduled to last for nine months, until late April, with the goal of reaching a "framework" agreement.
Receive Ynetnews updates directly to your desktop