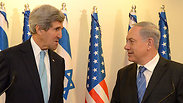 Kerry with Netanyahu. Used the term 'greater Jerusalem'
Photo: Haim Zach, GPO
What is hiding in Kerry's briefcase?
Analysis: Recent statements imply framework deal includes all core issues, negotiations will be based on 1967 borders with equivalent land swaps, communities outside settlement blocs will be evacuated, Palestinian capital will not necessarily be within Jerusalem's municipal borders
There is no situation which boggles the mind more than the halter waiting in the yard – and that is the best description of the situation Netanyahu and Abbas have been in since US Secretary of State John Kerry's last visit. American administration officials are a bit more gentle, describing the current situation of the two as "maturation and indecision" before making courageous historic decision. One way or another, Kerry has presented the two leaders with a formula, and they are both now racking their brains on how to market it at home and survive another day.

Kerry did not present the parties with a written framework agreement. In his briefcase he has a draft with a breakdown of ways to deal with all core issues, but he chose to present them with the principles verbally, in order to be able to insert improvements and corrections. The written document will be presented next month, and as part of its preparation the Americans have also conducted public opinion polls among Israelis and Palestinians in order to look into the public's stances on issues included in the framework agreement, and even on the wordings.

Peace Deal

Op-ed: Objection to Jordan Valley annexation shows Jordan has not lost interest in West Bank

Because the document has yet to be officially presented, neither side has been required to give Kerry an answer, and therefore neither side has rejected it out of hand.

Right now we are seeing an "incubation stage" in Israel and in the Palestinian Authority, which includes preparing the public opinion for the document's publication. The incubation is producing internal disputes – and disputes produce public statements hinting at the nature of the agreement taking shape.

For example, Lieberman announces that he accepts the land swap principle, and even donates Wadi Ara to the PA. Immediately afterwards Gideon Sa'ar emerges – speaking out of Netanyahu's throat – and explains that there will be no such thing. From this we learn that the agreement includes land swaps, but not necessarily population swaps. Moreover, this insinuates that Kerry is presenting a formula which is more convenient to Israel, as it does not discuss land swaps of square kilometer for square kilometer, but rather equivalent land swaps.

Another example: The prime minister says he will never agree to give up Hebron and Beit El, and from this "no" we learn about the "yes." There is a hint here that according to the framework agreement, everything left outside of the settlement blocs will not remain under Israeli sovereignty.

Another critical issue is Jerusalem's status. Here the American press has contributed a hint, out of a briefing given by Kerr during his visit to the Gulf states. Kerry used the term "greater Jerusalem," insinuating that the document includes a Palestinian capital in Jerusalem, but not necessarily in its municipal areas. Will the Palestinian capital be in Abu Dis? In the Muslim Quarter? That's unclear. "Greater Jerusalem" is a vague term which takes us back to the jolly days of Kissinger, who invented the "constructive ambiguity," which allows getting around problems and putting off the decision. If "greater Jerusalem" is an example of the document's wordings, then it's a document with a lot of cut corners, whose immediate goal is to postpone the talks' failure from April to a later date.

To summarize all the statements and hints: The framework agreement includes all the core issues, the negotiations will be based on the 1967 borders – with equivalent land swaps, with the settlement blocs and the evacuation of settlements located outside the blocs – and the capital of the Palestinian Authority will not necessarily be within Jerusalem's municipal borders.

These formulas are hard to digest, both for Netanyahu and for Abbas. And this is before information on the security arrangements and right of return has been leaked.

Kerry's only chance of getting through April without the talks failing depends on one person: Barack Obama. Will the American president be willing to get into a direct conflict with the two leaders in order to advance the framework agreement?

I seriously doubt it.