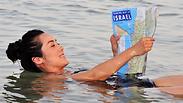 Third most visited site. Dead Sea
Photo: Shutterstock
VIDEO - Tourism Ministry figures point to a new record in tourist entries to Israel in 2013 with more than 3.5 million visitors, a 0.5% increase from 2012.

The number of tourist entries (excluding one-day visits) totaled 2.9 million this year – a 3% increase compared to 2012 (an average rise of 2.5% a year since 2008).

Video courtesy of jn1.tv

Of the 3.5 million visitors, about 2.6 million arrived by air (73%) – a 4% increase from 2012. Some 381,000 tourists came in through border crossings (11%) – a 6% drop from 2012. Some 578,000 entries (16%) were made by one-day visitors – a 9% drop, 257,000 of them arrived as part of a cruise – a 2% increase from 2012.
Where do tourists come from?
As always, most tourists arrived from the United States – about 623,000 Americans, who make up 18% of Israel's incoming tourism (a 1% increase from 2012). Russia came in second with 603,000 tourists (a 3% increase from 2012), followed by France with some 315,000 tourists (a 5% increase from 2012).

Tourism Conference

Israel's tourism industry preparing for biggest International Mediterranean Tourism Market so far as it marks its 20th anniversary

Germany came in fourth with 254,000 visitors, followed by the United Kingdom with 217,000 visitors, Italy with 173,000 visitors, Ukraine with 134,000 visitors and Poland with 89,000 visitors. Some 71,000 tourists arrived from Canada, 57,000 came from Holland and 53,000 from Spain.

According to the Tourism Ministry, most tourists were highly satisfied with their visit (a score of 4.3 out of 5). Improvements were recorded in the public's attitude towards tourists, in recreational and nightlife activities and in accommodation facilities compared to 2012.

Lower grades were given to tax-free stores (3.3), taxis (3.2), wheelchair accessibility in tourist sites (3.2) and value for money (3).
How much money did tourists bring in?
Tourism yielded the economy an estimated NIS 40 billion ($11.5 billion) in the past year, an 8% drop from 2012. Incoming tourism brought in about $5 billion in income (including Israeli airlines' income).
Some 100,000 people were employed in the tourism industry in 2013, two-thirds of them in hotels. The total number of employees as a result of the tourism activity is estimated at some 195,000 – about 6% of all employees in the Israeli economy.
What was most visited site?
The most visited city in Israel is Jerusalem, which was toured by 75% of tourists. Tel Aviv came in second with 64%, followed by the Dead Sea area (51%), Tiberias and the Sea of Galilee (44%) and Nazareth (35%).
The most visited sites are led by the Western Wall (68%), followed by the Jewish Quarter (64%), the Church of the Holy Sepulchre (57%), Via Dolorosa (55%) and the Mount of Olives (53%).
What type of tourists arrive?
Fifty-three percent of tourists were Christian, about half of them Catholics, 28% were Jewish, and the rest were members of other religions or people with no religious affiliation.
Fifty-four percent of the tourists visited Israel for the first time in 2013; 46% had already been here before.
Twenty-two percent defined the goal of their visit to Israel as a pilgrimage, 27% arrived for sightseeing and travel, and 9% for a vacation. In total, 58% defined the goal of their visit as touristic, 26% arrived to see relatives and friends, and 8% came for businesses purposes and conferences.
Sixty-four percent of tourists stayed in hotels, 25% with relatives/friends, 4% in youth hostels and Christian guesthouses, and 3% stayed in self-owned or rented apartments.

Israelis fly abroad more
Israelis traveled a lot in the past year too, with domestic tourism totaling 16.7 million stays (in all types of accommodation) – a 3% increase from 2012.

Israel's hotels recorded 13.7 million stays by Israelis (a 3% increase), rural guesthouses – 1.9 million stays (a 1% drop), and field schools – 339,000 stays (a 1% drop from 2012).

As for flights abroad, Israeli recorded 4.7 million trips in 2013 (a 9% increase from 2012), 4.3 million of them by air (up 10%), while trips through border crossings (to Jordan and Egypt) saw a 3% drop.
December sees new record too
December 2013 recorded 272,000 entries (a 14% increase from December 2012), 241,000 of them were tourist entries (a 24% increase from December 2012) – an all-time record.
Tourism Minister Dr. Uzi Landau said, "The year 2013 is a record year for tourism and we are proud of that. Despite Operation Pillar of Defense and the security situation in the region, tourists voted with their feet.
"The Tourism Ministry will continue to invest in maintaining the numbers of tourists arriving in Israel, by opening new markets and actively marketing the tourism product around the world. I wish all tourists a happy 2014."