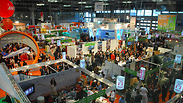 'Israel tourism industry's main event.' IMTM (archives)
Photo: Rami Hacham
Some 40 delegations are expected to participate in the 20th International Mediterranean Tourism Market (IMTM), which will be held in February at the Israel Trade Fairs and Convention Center in Tel Aviv.

Countries like Nepal and Ecuador will be making their first appearance at the event, while Thailand and Poland will be returning to the fair after an absence.

Tourist Profile

Tourism Ministry report reveals recent years have seen increase of over $1 billion in revenue to Israeli economy from incoming tourism

The IMTM, a professional conference of Israel's tourism industry, will include discussions on issues affecting the industry, such as the implementation of the Open Skies reform, the significant rise in the number of flights offered by low-cost companies, the effect of technological developments and applications on the industry and trends for 2014.

The fair is organized by the ORTRA company and Israel Travel News, and is sponsored by the Tourism Ministry, the Israel Hotel Association, the El Al airline, the Travel Channel, the Israel Tourist and Travel Agent Association, the Israel Incoming Tour Operators Association and the Association for Tourism Tel Aviv-Jaffa.

Israel Travel News editor and publisher Eyal Shmueli, one of the event's initiators, told Yedioth Ahronoth that in the past 20 years, the fair had gained a reputation as the main event of Israel's tourism industry, attracting senior industry officials and hundreds of decision makers from around the world every year.

He said this year's event was expected to be the biggest so far, both in terms of the number of delegations and participants from abroad and in terms of the number of participants from Israel.