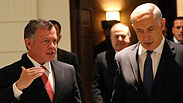 Abdullah and Netanyahu. Israeli prime minister holds the keys
A short trick reveals how behind the scenes everything has to do with everything in our neighborhood. Last Thursday, the vote on Egypt's new constitution had yet to be completed, and Jordan's King Abdullah hosted Prime Minister Netanyahu in Amman. Abdullah invited, Netanyahu showed up. No longer a secret meeting.

The host distributes photos and a proper official statement, stressing that the palace is pushing for a solution which will lead to a Palestinian state with its capital in east Jerusalem. And as always, the king warns that time is running out. The statement issued by Netanyahu stresses the need to improve relations (with Jordan? With the Palestinians?) in order for the process to mature.

Process of Peace

Royal Palace in Amman says meeting part of Jordanian 'cooperation with all sides involved in the peace process'

There is another point we should pay attention to: The statement from Amman insisted on mentioning the efforts of US Secretary of State John Kerry, who filled headlines here across the length, breadth and depth.

Organized conduct so far. It reflects the Jordanian stance, and it expresses the Israeli stance. What does all this have to do with Egypt, and what was so urgent that King Abdullah had to invite Netanyahu over? First of all, because of the strategic relations between Amman and Tel Aviv, which are much tighter and deeper than it seems. There are interests, there are warnings and regular updates, the red phones are working. We also received a clear hint in the king's interview to American magazine The Atlantic. After lashing out at all Arab leaders, he made a surprising comment that his relations with Netanyahu have improved and are "very strong."

Moving on: The king and Netanyahu see eye to eye on the conduct of Egypt's strong man, General al-Sisi, probably the next president, in the war he is waging against the Muslim Brotherhood in Egypt and against Hamas in Gaza. What his predecessors, Mubarak and Morsi, failed to do, al-Sisi is doing on a major scale, focused on his target. The truth is that he isn't fond of us, he doesn't give a damn about Jordan, he has managed to get into a quarrel with Qatar, with Erdogan in Turkey, and over the weekend he infuriated Tunisia, which is suddenly offering shelter to Egypt's Islamists.

King Abdullah was careful not to say a word about the lost battle against the Islamists, who were outlawed in Egypt and defined as a terror organization for all intents and purposes. Hundreds of activists have been detained, their funds and assets confiscated. The king has an active, vibrant "branch" in Jordan. He can't afford to crush them. But he knows that if the Brotherhood's home base in Egypt is pressed, the sparkles will blow in all directions, even into his field.

A year ago Abdullah visited the White House and pushed for a Palestinian state with active American mediation, that it will be inconceivable that "Jordan is Palestine." That is how the Kerry plan was born, and Abdullah now has to deal with the solution brewing up against him in the Jordan Valley. He doesn't want Palestinian security forces along the border. He sees a scenario in which Hamas will raise its head on both banks of the Jordan River. The more al-Sisi presses them in Egypt and Gaza, the more Abdullah must prepare for all options. Even if he gives Abbas the red-carpet treatment, he seems to trust Netanyahu more.

One sentence in the palace's statement after Netanyahu's quick visit sums it all up: In any agreement which is reached, Jordan will first of all ensure that its interests are implemented. Simply put, Jordan is demanding that its special status in east Jerusalem and its water deals with us are maintained, and let no one think of handing the Jordanian borderline over to Palestinian hands. From Abdullah's angle, there is no harm complimenting Kerry after what he suffered here, but Netanyahu holds the keys.