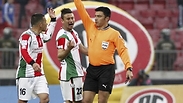 Palestino players. Team ordered to redesign shirts
Photo: Getty Images
Chilean first division team Palestino have been fined for using shirt numbers in which the figure one is designed to look like a map of pre-1947 Palestine before the creation of Israel.

The Chilean league's disciplinary tribunal said the decision followed a complaint from Nublense, another first division club.

Arab Boycott

Vitesse submits to Arab boycott of Israelis, leaves defender Dan Mori behind as first team heads to training camp in Abu Dhabi

"The figure one was replaced by a map of the historic Palestine, before the United Nations resolution of November 20 1947 which established a Jewish state and an Arab state," said the complaint by club president Patrick Kiblisky.

"This map, which does not take into account the present state of Israel, is a symbol for the Palestinian people. These circumstances mean that its use constitutes a political matter."

Palestino, who won the Chilean championship in 1955 and 1978, represent the country's Palestinian-descendant community of around 300,000 people.

The league fined the club the equivalent of $441 for each of the games it used the shirts and ordered them to be redesigned.

"The association is removed from religious and political activities, in general, and anything else which does not have a direct relation to its objectives and to sport," said the tribunal in its six-page decision.

"Consequently, the association prohibits any form of political, religious, sexual, ethnic or racial discrimination."