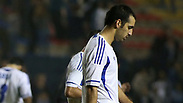 Dan Mori
Photo: Reuven Shwartz
An Israeli soccer player in the Netherlands has become the latest victim of an Arab boycott against Israel.

Vitesse defender Dan Mori was left behind by his Dutch team when they left for training camp in Abu Dhabi, part of the United Arab Emirates, Sunday morning. Mori was forced to stay in the Netherlands to train with the reserve squad.

Video courtesy of jn1.tv

"About a month ago the team began searching for possible destinations for the winter break training camp – Spain, Portugal, Turkey. Dubai came up as a possibility and the team informed (the local authorities) that there is an Israeli player on the squad. The authorities authorized his stay, saying 'we'll take care of him, no problem.'

"Yesterday, hours before leaving, the team received a message that I would not be able to enter Dubai. The club still planned for me to fly there, hoping to use connections once we were there to make sure I was allowed to enter, but this morning they told us that I would be arrested upon entry.

Geert Wilders, a Dutch parliamentarian and an outspoken critic of Islam, tweeted his disgust at the team's decision: "Vitesse shouldn't have gone to the UAE. To protest the refusal of Mori. Now they're accepting the anti-Semitism (of the) Emirates. Cowardice."

Related stories:

The team responded to the controversy: "We are playing against clubs who are banking on us coming and we want to prepare ourselves properly for the second half of the season," Vitesse spokesman Esther Bal told Dutch Radio One on Monday.

"Organizers had (previously) assured us Mori would be allowed to enter the country," Bal added before saying that cancelling the trip was not an option. The Dutch FA (KNVB) said it would not be getting involved in the row. "It's a political question," a spokesman told reporters

.

The most famous instance of the Arab boycott of Israeli athletes occurred in 2009 when Shahar Pe'er was denied entry into Dubai and prevented from playing in an international tournament. During the 2013 Swimming World Cup in Doha, Israeli swimmers were represented by a white flag on Qatari television.

In 2010, Mahmoud al-Mabhouh – Hamas' military commander – was assassinated in his hotel room in the neighboring emirate of Dubai, allegedly by a team of Mossad operatives.

Mori, who played for Bnei Yehuda Tel Aviv in his native land, signed with Vitesse in 2012. He has represented his country on the international stage seven times.