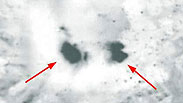 IAF hit Gaza rocket launcher
Photo: IDF Spokesperson Unit
Israeli fighter jets attacked the Gaza Strip on Friday morning in response to rocket fire on Israel Thursday, targeting an arms warehouse and rocket launch site, and injuring four Palestinians.

Sources on both sides confirmed the attack, which came hours after a rocket fired from the Hamas-run Palestinian enclave hit the Jewish state. According to the IDF Spokesperson Unit direct hits were confirmed, and "the terror organization Hamas is responsible."

Defense Minister Moshe Ya'alon confirmed reports that the IAF struck three direct Hamas targets in the Gaza Strip early Friday morning: "We will not tolerate rocket fire on Israel," he said.

"The IDF and other security forces will continue to chase after those who shoot at Israel or try to execute terror attacks, and they will not hesitate to attack those attempting to do so."

Rocket Attack

Red alert siren sounds in Netivot region. Rocket launched from Gaza hits Sdot Negev Regional Council

Palestinian security sources said two strikes targeted training sites of Izzedine al-Qassam Brigades, Hamas's armed wing, in Beit Lahiya in northern Gaza were hit.

In two additional air strikes at sites west of southern Gaza city Rafah two Palestinians were injured, the sources said.

The attack came a short while after a rocket fired from Gaza hit in an open area in the Sdot Negev Regional Council, causing no damage or injuries. Residents reported to hearing blasts.

A statement from the Israeli military said that in response to the rocket, its aircraft targeted "a terror activity site and a weapon manufacturing facility in the northern Gaza strip and a weapon storage facility" in southern Gaza.

Tensions have recently risen in and around Gaza after a year of relative calm, with six Palestinians and an Israeli killed since December 20 and militant rocket fire sparking retaliatory air strikes.

Last week, at least one rocket hit an open area in the Eshkol Regional Council and two rockets hit open areas near Eilat. No injuries or damage were reported

On January 22, the IDF killed two Palestinians, one of them identified by Israel as a militant from the Popular Front for the Liberation of Palestine who the army said was behind recent rocket attacks.

Hamas recently confirmed it had deployed forces in Gaza to "preserve the truce" with Israel, brokered by Egypt, which ended the last major confrontation in November 2012.

While Hamas does not routinely launch projectiles at Israel, but the State holds the Islamist terror group that seized power in Gaza in 2007 responsible for any such attacks, as it is the ad hoc sovereign of the enclave.
170,000 rockets
On Wednesday, Military Intelligence Chief Brigadier General Aviv Kochavi said that despite a drop in the number of missiles and rockets threatening Israel, their level of precision has drastically risen.
"Some 170,000 rockets and missiles are threatening the State of Israel from all regions. Up until recently, the number was much greater and it has decreased, but it will go up again.
"They are much more precise and a lot more lethal. The most significant thing we would like to point out is the fact that the enemy has the capability to land mass amounts of arms on Israeli cities," he said.
AFP and Mattan Tzuri contributed to this report