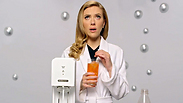 Scarlett Johansson in SodaStream ad. Jewish people's new heroine
Photo: AP
The Israeli SodaStream factory is an economic business. A source of employment for work weary Jewish employees and Palestinian laborers in need of an income. They come there for the money, not because of politics. They stay there and work with each other peacefully, for the same reason.

The factory is located near Ma'ale Adumim, within a settlement bloc which is supposed to be part of the State of Israel according to every possible outline. As far as the boycott movement is concerned, that's enough to wage a war against it. The factory's success around the world is an Israeli source of pride; the boycotts against it are an Israeli problem. This is a battle aimed at harming the economy regardless of religion, race and the Green Line.

Fiction or Framework?

While still expressing much optimism regarding imminent deal, US secretary of state warns Israel runs great risks, only has momentary security that is bound to change if peace talks with Palestinians flounder

Scarlett Johansson got caught up in our mess against her will. SodaStream suggested that she become its spokesmodel; Johansson agreed. She has Jewish roots from home and blonde roots in her hair. What comes first is unclear. In any event, the Israelis were happy to adopt both.

What bubbles in the soda factory in Ma'ale Adumim burst in Hollywood. A superficial world, superficial problems. Johansson was hit with a huge wave of protests. She stepped into the breach. She is in favor of a Palestinian state and in favor of Israeli soda which matches a green approach. She is in favor of peace and against boycotts. As simple as it may sound, the issue turns complicated when it comes to the State of Israel.

The Oxfam organization, which fights poverty and inequality around the world, didn't like Johansson's soda campaign. The battle against Israel defeats the battle against poverty. All is fair, even laborers' future. There is no point in writing about the hypocrisy while reports are being published about the massacre taking place in Syria since the agreement with the West. Justice is not pursued in the international arena, only interests.

But there is a point in understanding reality. Israel is in the midst of a battle against the Boycott, Divestment and Sanctions (BDS) movement. We cannot bury our heads in the sand, even if it matches someone's ideology. The good news is that at the moment, despite the boycotts and racket, the Israeli economy is stable. The problem is that our friends are less stable. Pressure has an effect, even if we've found a new heroine in the history of the Jewish people.

In the Israeli government, there is no agreement about anything. Not even about this critical battle. Lapid talks about the economic danger of the boycotts; as far as Bennett is concerned, there is only growth. Livni is making peace; Uri Ariel is praying against it. We are lacking an organized policy, there is an abundance of soda, and at least one beautiful Scarlett on our side. Well, that's something too.