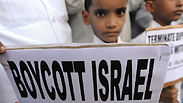 'Same government opposing boycotts allocates Dutch taxpayer money to NGOs that lobby for BDS'
Photo: AFP
The Netherlands is a consistent and strategic ally of Israel, and in recent months has promoted important initiatives to strengthen economic partnerships, including the Netherlands-Israel Cooperation forum.

Yet, at the same time, the Dutch government maintains ambiguous policies pertaining to political warfare against Israel, such as BDS (boycott, divestment, and sanctions) campaigns. This has left Dutch corporations vulnerable to a strong network of NGOs (non-governmental organizations) that promote anti-Israel propaganda, false claims, and distortions of international law to advance their agenda.

Financial Consequences

After Dutch pension manager divests from Israeli banks in protest of their involvement in West Bank settlement construction, Israel summons Dutch ambassador, asking for 'clarification'

The Dutch government's "Discouragement Policy" outlines regulations for economic activities with settlements, but remains vague enough that it leaves room for pro-BDS NGOs to pressure Dutch companies to divest from any and all Israeli corporations. Thus, within the past two months, several Dutch companies, including the PGGM pension fund, Vitens water company, and engineering and project management consultancy Royal Haskoning DHV, announced their decisions to withdraw from partnerships with Israeli companies.

Following the announcement, MP Kees Van Der Staaij visited Israel and stated that he, as well as the majority of the Dutch population does not agree with the idea of a boycott, and encouraged Dutch companies continue working bilaterally with Israeli and Palestinian ones. Still, this did not stop the tide of BDS campaigns. ABP, the largest pension fund in the Netherlands, and ING Investment Management, the pension fund of Dutch Bank ING, are also under pressure to reconsider their investments in Israeli banks, as reported by the Financial Times.

PFZW (Pension Fund for Care and Well-being) director, Peter Borgdoff, whose funds are managed by PGGM, confirmed that NGOs were centrally involved in PGGM's January 8 decision to cut cooperative initiatives with Israeli banks: "For several years, we have been addressed on this issue by organizations such as Cordaid, ICCO, IKV Pax Christi, Oxfam Novib, Werkgroep Keerpunt and the Dutch Palestine Committee. Coincidentally, we also provide pensions to some of these parties."
Tools and ammunition
Ironically, as shown by NGO Monitor, the same Dutch government that opposes boycotts has been allocating Dutch taxpayer money to the NGOs that lobby for BDS. ICCO, Kerk in Actie, IKV Pax Christi, and Oxfam Novib receive large scale funding from the Dutch government, and in turn, fund Israeli and Palestinian NGOs that are centrally involved in BDS activities. At least nine NGOs that have received Dutch funding have endorsed the 2005 "Palestinian Civil Society Call for BDS." This discriminatory anti-peace initiative calls for "the world to impose broad boycotts and implement divestment initiatives against Israel similar to those applied to South Africa in the apartheid era."
This network of NGOs has gained incredible momentum in the Netherlands, exhibiting the ability to deeply influence the policies of Dutch corporations. The network is especially powerful because of a highly influential organization, The Rights Forum (TRF). Headed by former Prime Minister, Andreas Van Agt, known as the "Dutch Jimmy Carter," the Dutch lobby group is made up of high-ranking ex-politicians and lawyers, many of whom sit on committees of the ICC, the UN, and anti-Israel NGOs.
Although its name suggests a universal human rights agenda, the Rights Forum focuses exclusively on the Arab-Israeli conflict. And within the conflict, the Rights Forum has adopted a narrow pro-Palestinian political agenda, using the prestige of its members to promote the biased campaigns of fellow political advocacy NGOs.
Many members of the Rights Forum are also part of the Dutch Advisory Council of International Affairs (AIV), a supposedly "independent body" housed in the Dutch Foreign Ministry, which advises the government on foreign policy relating to human rights. Given Rights Forum's clear anti-Israel agenda, this represents a conflict of interest, reflected in the AIV's similar myopic focus on Israeli settlements, to the exclusion of nearly all other issues of the conflict. It is through their involvement in such influential bodies, often behind closed doors, that Rights Forum members are able to advocate their political agenda among high ranking officials.
The Dutch "Discouragement Policy" has provided activists with the tools and ammunition to form a vigorous BDS network, infiltrating both political and economic channels in the Netherlands.
The policy has opened the door to campaigns that exploit its function for the purpose of confronting Dutch companies and pressuring them to sabotage mutually beneficial initiatives with Israel.
To prevent further damage, the Dutch government needs to go beyond calling for economic cooperation. It needs to forcefully reject the political warfare of the BDS movement and the NGO attacks on the Dutch economy and its foreign policy.
Emily Ziedman is a communications associate at NGO Monitor