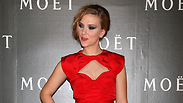 Scarlett Johansson
Photo: Getty Images
If Scarlett Johansson hasn't hit the headlines often enough in recent days for her connection to Israeli company SodaStream, her rejected Super Bowl advert for the soft drink giant is sure to garner some more attention.
The original advert will not be aired in its prestigious spot on February 3 because it clearly mentions rival drink producers Coca Cola and Pepsi. The latter is sponsoring the Super Bowl's halftime show, and Fox, which this year is broadcasting the game, has banned the ad.
Related stories:
In the original version, a robe-clad Johansson makes herself a fizzy drink with her SodaStream machine, and then wonders how she will make her message about the product go viral. The actress then doffs the robe to expose a slinky little black dress, a screen rises to reveal a packed audience and full orchestra, and a pouting Johansson smiles and says "Sorry Coke and Pepsi."
SodaStream CEO Executive Daniel Birnbaum was unimpressed by the decision.
"They're afraid of Coke and Pepsi," he told USA Today, referring to Fox. "This is the kind of stuff that happens in China. I'm disappointed as an American."
The commercial will be shown without the line mentioning the two rival companies.