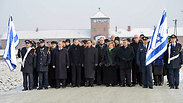 'I survived only in order to tell.' Knesset delegation at Auschwitz, Monday
Photo: Haim Zach, GPO
I was at Auschwitz yesterday. It was the 148th time I visited the camp since 1959, when I returned to the most damned place on earth for the first time. Yes, throughout those 55 years I traveled 148 times to the biggest death camp, which was established by the Nazis in the Polish town of Oświęcim – whose name they changed to Auschwitz.

The camp – or to be precise, a complex of 44 camps – operated for less than five years. But during that time the Germans managed to murder a million and a half people, including nearly 1.3 million Jews, about 75,000 Poles, tens of thousands of Soviet prisoners of war and about 23,000 gypsies.

Never Forget

Op-ed: In special article for International Holocaust Remembrance Day, UN secretary-general says world can and must do more to eliminate poison that led to Nazi death camps

I have visited Auschwitz with high-ranking delegations and many officials from Israel. I have accompanied presidents, heads of state, chiefs of staff, police commissioners, ministers, ambassadors. I have been here with American senators, with British lords, with a delegation of the European Parliament and several parliaments of different European countries. And with Knesset delegations as well of course.

I arrive every year also as part of the March of the Living, that important educational-symbolic enterprise I have been participating in since 1988, and attend the meetings of the International Auschwitz Committee, in which I am a member of the presidency.

I also came to the site of this death camp with three delegations from our newspaper and held private and more personal visits too, for example during Poland's communist government era, when I came on my own, and three years ago too when I arrived with my entire family.

And people always ask me the same question: Why do I visit this place so many times? The answer is always the same answer. First of all, because it's a pilgrimage to pay my respects to the memory of the hundreds of thousands who were here before me and together with me in this damned place and did not survive it. And also because I want to tell as many people as possible at the site itself what exactly happened here. About the enthusiasm and brutality with which the Germans and their assistants murdered the prisoners. As if it can be said in words, but I try, because after all it's a mission, and I am anyway convinced that I survived only in order to tell.

My 148th time in Auschwitz was extraordinary. For the first time, a large delegation of the Knesset, the parliament of the new Jewish state, arrived to hold a joint ceremony with the Polish parliament, and I had the privilege to be present and speak at the ceremony. If God, or fate, or both, give me a few more years, I'll continue coming back here to fulfill this mission.