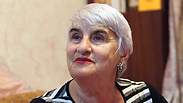 Yelena Elimelech
Photo: Gil Yohanan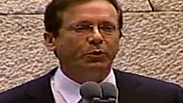 MK Herzog. This is how elderly people live in Israel today
Photo: Knesset Channel
Yelena Elimelech, 73, has emerged as the real Riki Cohen of 2014. In a charged speech at the Knesset on Wednesday, Opposition Leader Isaac Herzog named her to Israel's citizens, detailing the circumstances of her life and the grim economic reality she, like tens of thousands of other elderly Israelis, is forced to deal with.

"The truth is that I am very lucky because I have heating in my apartment. Other elderly people don't even have that," Elimelech says.

Asked how she can live on NIS 2,732 (about $775) a month, she says: "Live? That's not a life."

Related stories:

Herzog cited Elimelech as he slammed Prime Minister Benjamin Netanyahu during a social-economic debate at the Knesset. "Yelena Elimelech is a real woman," he said. "Unlike Riki Cohen, she has a name and a face and an age. She lives off a pension of NIS 2,723 a month."

After paying her rent, electricity and other bills, Elimelech is left with just NIS 700, Herzog said. "Mr. Prime Minister, do you know how difficult it is to live off NIS 25 a day? This is the life of an elderly person living on a pension."

Herzog's speech did not come as a complete surprise to Elimelech, who had communicated with his aide earlier this week. She spoke to Ynet from her tiny (27 meters-squared) apartment in Jerusalem that is provided by the state. It includes a joint living room and kitchen, and a tiny bedroom.

"Every day I calculate what to buy, how to buy and where to save," she says. "After the payments and the medication, I don't have enough money left for food. I don't buy in the supermarket, for example. I go there like I would go to a museum – just to look. I do my shopping at the market at the end of the day. The fruit and vegetables are not as good, but they cost less. I don't buy meat because I can't afford it. Sometimes I buy chicken."
'We are treated like second-class citizens'
Elimelech is part of a large group of Israelis who can't make ends meet. According to the National Insurance Institute's Poverty Report, released in December, a total of 439,000 poor families lived in Israel in 2012. The number includes 1,754,700 people, 817,200 of them children.
Within this group, the elderly population is even more vulnerable. The percentage of poor senior citizens has gone up to 22.7%, according to the report: From 156,000 (in 2011) to 186,000 (in 2012).
And what is Israel's government doing to deal with these alarming figures? A Taub Center report published in October revealed that before taxes and welfare, Israel's elderly are in an excellent situation on a global level. But after those payments, the situation is completely reversed. According to the report, one-fifth of Israel's senior citizens live below the poverty line, seven times more than most countries in the developed world.
Like many other elderly people who immigrated to Israel in the 1990s from the former Soviet Union, Elimelech worked in temporary jobs which did not provide her with pension rights. She made aliyah in 1991 from Belarus, where she was a civil engineer, but here she could not work in that profession.
"When I came here I didn't know a word of Hebrew and there was no chance of finding a job as an engineer," she recalls. "So I worked in everything else: Cleaning, kitchen work, caring for elderly people, everything I could find to make a living.
"I expect the state to help me. My two granddaughters have gone into the army and contributed to the country. My daughter is 100 percent disabled after being injured in a terror attack. I am not asking for luxury, but I am also a human being and I want to live, not just to breathe and sleep. I want to be able to host my granddaughters and buy them cake. I want to have money to travel on the bus and go to a concert once a month."
Without a pension, her entire income amounts to the allowance she receives from the National Insurance Institute, which she says is comprised of an old age pension and income support.
"We are being treated like second-class citizens," she charges. "I would like the finance minister or prime minister to step into my shoes for a day so that they can understand my situation. They don't even see me and my friends."
Lack of food security
A program presented by the National Council for Nutritional Security, which was established in 2011 by then-Social Services Minister Moshe Kahlon, suggests granting some NIS 320 in monthly aid to about 100,000 needy families. The money would be received through food packages or vouchers.

Ynet has learned that the plan will last two years, and that in the first stage, the food will be handed over to the needy through associations. The state, the voluntary sector and the business sector will take part in the initiative.

The Council for Nutritional Security, headed by Prof. Dov Chernichovsky, says that according to a National Insurance Institute (NII) assessment that there are some 330,00 families living in Israel that suffer from "lack of food security."

The term refers to two related phenomena: Shortage of food in the household and bad nutrition. According to the National Insurance Institute report, 18.3 percent of families in Israel feel a lack of food security and 10.5 percent suffer from serious lack of security, which may be accompanied by hunger.

Meanwhile, an International Monetary Fund report on Israel's economy released Wednesday notes that despite a relatively high growth level, Israel's poverty rate is still one of the highest among developed countries (members of the Organization for Economic Cooperation and Development or OECD).

Stating that many of the poor were Arabs and haredim, the report's authors warned that if Israel failed to integrate these two populations into the labor market, its growth would suffer in the long run, especially when taking the Israeli demographic profile into account – within 20 years these two populations will make up 40% of the country's citizens. The report calls for increased educational efforts among these populations in order to integrate them into the labor market.