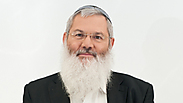 Deputy Minister of Religious Services Rabbi Eli Ben Dahan
Photo: Benny Doutsh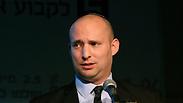 Minister Bennett. 'The decision benefits neither the animals nor Jewish tradition nor human rights'
Photo: Aner Green
Israeli officials have joined the world Jewry in blasting Denmark's decision to ban kosher slaughter in the country. Israel's chief rabbi, the minister of religious services and his deputy expressed their anger over the ruling that kosher slaughter causes animal suffering, and demanded clarifications from the Danish government.

"Kosher slaughter is the most humane of all existing methods and prevents animal suffering," said Chief Rabbi David Lau. "I will speak to Denmark's ambassador to Israel and government officials in Denmark, and if this serious decision has indeed been made – we will demand its cancellation. This is a serious and severe blow to the Jewish faith and to the Jews of Denmark."

Step Forward

European country seeks to expand its exports amid ban in neighboring Poland on kosher, halal slaughter of livestock for food. Tiny Jewish community welcomes move

Minister of Religious Services and Diaspora Affairs Naftali Bennett spoke Thursday to prominent European Jewish officials, including President of the Conference of European Rabbis Pinchas Goldschmidt, Denmark's Chief Rabbi Bent Lexner and Chabad's emissary to Denmark, Rabbi Yitzchok Lowenthal.

"We will stand by the Jewish community and look into ways to help them as soon as possible," he said. "This decision benefits neither the animals nor Jewish tradition nor human rights."

Minister Bennett offered Denmark's Jewish community any help possible and instructed his ministry workers to monitor the issue and come up with solutions.
'Summon the ambassador'
Deputy Minister of Religious Services Rabbi Eli Ben Dahan responded to the Danish decision with harsh words.

"European anti-Semitism is showing its true colors across Europe, and is even intensifying in the government institutions," he declared. "I urge the Danish ambassador to prevent the implementation of the decision to ban kosher slaughter. Minister Lieberman must summon him for a clarification."

The Conference of European Rabbis slammed the Danish agriculture and food minister's decision as well. Rabbi Pinchas Goldschmidt said Minister Dan Jørgensen's remark that "animal rights come before religion" were outrageous and contradicted the European Convention, and even violated freedom of religion and conscience.

"Although there is no organized kosher slaughter in Denmark, and the decision came following the Muslim's halal slaughter," he added, "there is a lot of anger in the European Jewish world over this shameful decision."

Rabbi Menachem Margolin, head of the European Jewish Association (EJA), sent a letter to the Danish Ambassador to the European Union, the Danish prime minister and parliament speaker, claiming that the Danish slaughter ban "hurts Jews not only in Denmark, but in other places across Europe.

"Kosher butchering is essential for the continuation of Jewish life," the EJA leader added, vowing that the organization would "fight against this injustice vigorously," as it is doing these days against the ban on kosher slaughter in Poland and the proposed ban on circumcision in Norway.
'New policy harms minorities'
Rabbi Margolin has already discussed the matter with European Commissioner for Health and Consumer Policy Tonio Borg, who he says told him that the slaughter ban contradicted European laws ensuring religious organizations' rights to perform ritual slaughtering in accordance with their religious belief and that he planned on asking the Danish government for clarifications on the matter.

Denmark's Jewish community includes some 6,000 people, most of whom live in the capital city of Copenhagen. Finn Schwarz, the community's president, told media outlets in the country that the new policy harms minorities who are incapable of defending themselves.

On Thursday it was reported that the Danish government had effectively outlawed kosher slaughter, with new regulations signed into law and expected to go into effect Monday.

Denmark's Agriculture and Food Minister Dan Jørgensen approved a new regulation which stipulated the slaughter of animals cannot be undertaken without first stunning them, a move incongruent with kosher laws, the World Jewish Congress said.

"Animal rights come before religion," Jørgensen was quoted as telling Denmark's TV2 television news, claiming that he is in favor of ritual slaughter but that it must be done without unnecessary suffering to the animals, which can only be achieved through stunning.