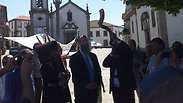 'Spain should give Conversos' descendants the opportunity to seek their family roots and histories'
Photo: Itzchak Tessler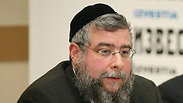 Rabbi Pinchas Goldschmidt
Photo: Conference of European Rabbis
Spanish authorities have during the last few days initiated a media blitz in Israel, publishing a list of Jewish Spanish family names, encouraging anyone lucky enough to have one to apply for Spanish citizenship.

This latest outreach of the Spanish authorities to those who are to be believed to be the descendants of Spanish Jews, expelled by King Ferdinand and Queen Isabella under the influence of increasing anti-Semitic Catholic clergy in 1492, is although a little late, still commendable.

Spain Claims

Former Sephardic chief rabbi sheds light on the process that led to Spanish decision to grant nationality to descendents of Jews expelled in 1492, says rabbis will determine who should be recognized as offspring

Prior to the expulsion from Spain, Jews there enjoyed a golden era for hundreds of years, maintaining a rich Jewish culture and tradition, while occupying a prominent place in civil society, commerce and politics.

The exact number of expelled, killed and forcibly baptized Jews as a result of the Spanish expulsion edict in 1492, followed by Portugal four years later, remains a question debated by historians, with the total number of victims of religious persecution numbering between 165,000 and 800,000.

Even converted Jews, the Conversos or Marranos, as they were called in the Iberian Peninsula, did not find peace in their forced new identity. The Inquisition relentlessly checked on their beliefs and practices, sending thousands to die in public execution orgies at the stake and confiscating their property.

As noble as the Spanish gesture might seem, we should not forget that the increased insular and religious Spain slowly descended from its prime place in the world as a super power to become a backwater entity, joining Europe and its democratic values on a very late stage, making it maybe itself the greatest victim of its own history.

How many Israelis with family names like Deri, Dahan and Abarbanel would want to leave their country in order to immigrate to Spain? If the offer would have come in 1938 for example, I believe that many Jews of Europe would have gladly taken on the Spanish offer. But as they say, banks usually are ready to give you money when you need it the least.

I hardly believe that hundreds of thousands of Israelis are seriously considering changing their country of residence from Israel to Spain, however many of them will be tempted to acquire a second passport to simplify their entry to countries that still curtail or limit entry of Israelis through visa requirements. As my grandfather used to say, a Jew should have at least three passports.
Even the Portuguese government apologized
I believe that instead of trying to bring back Israelis to Spain, which would be as successful as bringing grandchildren of early Zionists settlers to Ukraine or Moldavia, Spain should try to give the descendants of the Conversos the opportunity to seek their family roots and histories. In some enclaves such as Mallorca, descendants of Marranos still form a distinct group known as Chuetas, living in an environment that, according to a 2008 Pew Global Attitudes Poll, is still unfavorable to Jews.
Descendants of forcibly converted Jews have should have the basic right to discover their link to their ancestors, as much as Jewish children hidden during the Holocaust in convents and forcibly assimilated Jews in the former Soviet Union.
I also believe that the Jewish people finally deserve an apology. The Spanish government has not apologized to the Jewish people up until today, with King Juan Carlos missing a great opportunity to do so during a visit to a Madrid synagogue in 1992. Even the Portuguese government apologized formally a few years ago.
I think that the Spanish government should create a genealogical institute in Spain, helping Spaniards who believe themselves to be of Jewish descent to seek their ancestors and roots, introducing as well Judaic studies into the school curriculum.
Thirdly, a small number of edifices that were once synagogues remain, and are in use today as museums and churches. Some of these buildings should be re-dedicated as Jewish houses of worship, in order to correct historical wrongs.
The issue is not restitution of property, which might scare the Spanish authorities, the same way Turkish authorities fear the repercussions of the recognition of the Armenian Genocide. The issue is primary of moral and historical justice. Many of our people opted willingly out of our peoplehood during centuries of persecution and expulsion. However, those who were forced to do so should have the free choice and enough information to reconnect to their past.
Rabbi Pinchas Goldschmidt is the president of the Conference of European Rabbis and the chief rabbi of Moscow