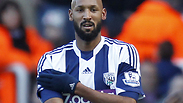 Nicolas Anelka performing 'anti-Semitic' gesture. Is a five-match ban enough?
Photo: AFP
The English Football Association could push for Nicolas Anelka to serve more than a five-match ban for a racially aggravated goal celebration by appealing against its own disciplinary panel's verdict.

The West Bromwich Albion striker on Thursday received the minimum FA racism ban for performing a gesture which is known in France as a "quenelle" and has been called an "inverted Nazi salute."

No Entry

On grounds of public security, Britain's interior ministry slaps exclusion order on Dieudonne M'bala M'bala after he reportedly planned to visit country to support Nicolas Anelka in footballer's 'quenelle' row. Dieudonne responds by giving Queen Elizabeth II his trademark Nazi-like salute

Although the gesture was found to be racist, the FA's independent commission backed Anelka's insistence that he was not being intentionally anti-Semitic.

"We haven't got the written reasons yet, and we'll get those on Monday. At which point it's open to appeal from either our side or from Nicolas Anelka's side," FA General Secretary Alex Horne said after attending a meeting at FIFA headquarters in Zurich.

Until then Horne said he can't comment on "whether five matches is enough."

The punishment, which includes a fine of 80,000 pounds ($133,000), does not take effect until the potential appeal process ends.

Anelka performed the quenelle as he celebrated scoring in West Brom's 3-3 draw with West Ham on December 28.

The gesture involves pointing one straightened arm downward while touching the shoulder with the opposite hand. It was popularized by French comedian Dieudonne M'Bala M'Bala, who has been convicted multiple times for inciting racial hatred or anti-Semitism.