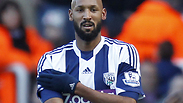 Nicolas Anelka says he was merely expressing support for French comedian Dieudonne
Photo: AFP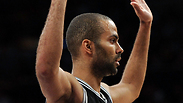 Parker. 'I thought it was part of a comedy act' (archives)
Photo: AFP
VIDEO – West Bromwich Albion striker Nicolas Anelka has agreed to stop performing a controversial goal celebration that has anti-Semitic connotations and caused an outcry in his native France.

The former France international is the subject of an investigation by the English Football Association after celebrating the first of his two goals against West Ham in the Premier League on Saturday with a gesture that's known in France as a "quenelle."

It is described by critics as an inverted Nazi salute and condemned by France's sports minister as "shocking" and "disgusting."

Video courtesy of jn1.tv

"The club fully acknowledges that Nicolas' goal celebration has caused offense in some quarters and has asked Nicolas not to perform the gesture again," West Brom said Monday in a statement. "Nicolas immediately agreed to adhere to this request."

Anelka is available for selection for West Brom's home match against Newcastle on Wednesday.

Violent Response

French police arrest activists of right-wing Jewish organization on suspicion of assaulting two men tracked down on social networks for performing anti-Semitic gesture

The 34-year-old Anelka has defended his actions by saying he was merely expressing his support for French comedian Dieudonne M'bala M'bala, who performs the gesture on stage. Dieudonne claims the salute, which involves pointing one straightened arm downward while touching that arm's shoulder with the opposite hand, is anti-establishment and not anti-Semitic.

Meanwhile, San Antonio Spurs guard Tony Parker apologized on Monday after a three-year-old photo surfaced of him making the same anti-Semitic gesture that has landed Anelka in trouble.

"While this gesture has been part of French culture for many years, it was not until recently that I learned of the very negative concerns associated with it," Frenchman Parker said in a statement released by National Basketball Association's Spurs.

"When l was photographed making that gesture three years ago, I thought it was part of a comedy act and did not know that it could be in any way offensive or harmful.

"Since I have been made aware of the seriousness of this gesture, I will certainly never repeat the gesture and sincerely apologize for any misunderstanding or harm relating to my actions."

Video courtesy of jn1.tv

The photo of Parker, a French national team member and three-time NBA champion, shows him making the hand gesture with Dieudonne.

Parker offered the apology after Abraham Cooper, associate dean of Jewish human rights group The Simon Wiesenthal Center (SWC) said that "as a leading sports figure on both sides of the Atlantic, Parker has a special moral obligation to disassociate himself from a gesture that the government of France has identified as anti-Semitic.

Cooper added in an interview with The Algemeiner that Parker's actions were part of a "mainstreaming" of "anti-Semitic hate."
First player to be sanctioned under new rules?
West Brom said Anelka "strongly denied intending to cause offense" when he was asked to explain his goal celebration by the club's sporting and technical director, Richard Garlick, at training on Monday.
Anelka could become the first player sanctioned under rules brought in by English football to combat racist behavior and is facing a minimum five-match ban.
"The club is aware that the Football Association is investigating the matter and has offered its full co-operation," West Brom said. "The club will continue to make its own enquiries – a process which will remain confidential between the club and Nicolas."
British media have published pictures of two other France internationals playing in the Premier League, Samir Nasri of Manchester City and Mamadou Sakho of Liverpool, performing the "quenelle" in the past.
Sakho said on Twitter in November that he was tricked into using the salute, saying "I did not know the meaning of this gesture, I got trapped!"
Nasri wrote on Twitter on Monday that his "quenelle" pose in a picture that he posted two months ago "symbolizes being against the system" and has "absolutely nothing to do with" being anti-Semitic.
"I apologize for causing any hurt to anyone who might have been mislead into thinking this means anything of that nature," Nasri tweeted.
The goal that preceded Anelka's "quenelle" celebration was his first for West Brom since joining on a free transfer in July. He has only played eight games this season and West Brom caretaker coach Keith Downing said he is unsure whether Anelka will keep his place in the team.
"I need to speak to Nico tomorrow," Downing said. "There's a distraction to it and we'll have to obviously find out tomorrow how it all is."
Anelka has also played for Arsenal, Real Madrid, Paris Saint-Germain, Liverpool, Manchester City, Bolton, Chelsea and Juventus in a turbulent career in which he has regularly hit the headlines for the wrong reasons.
The Associated Press, Reuters and Shalom Life contributed to this report