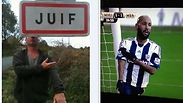 Anelka (R) celebrates with anti-Semitic gesture?
Photo: Screenshot
VIDEO - French footballer Nicolas Anelka triggered controversy Saturday when he made a post-goal gesture many interpret to be a modified "Nazi-style" salute.
After scoring the first of his two goals in a 3-3 draw at West Ham on Saturday, Anelka appeared to perform a salute used by French comedian Dieudonne M'bala M'bala that Jewish groups in France have linked to anti-Semitic incidents in the country. The comic has been fined seven times for defamation, insult and provocation to hate, and for racial discrimination.
Video courtesy of jn1.tv
Widely known by his first name, the comedian has popularized the straight-arm gesture, which he calls a "quenelle" – a balled food item made of fish or meat.
Controversial Comedian
French interior minister says Dieudonne's shows have repeatedly insulted memory of Holocaust victims, could threaten public order
The gesture was immediately and widely condemned. Online, a storm brewed, with some Twitter users calling Anelka, a former member of France's national team, "loathsome" and "racist".
France's sports minister, Valerie Fourneyron, called it a "shocking, sickening provocation" and said there is "no place for anti-Semitism and inciting hatred on the football pitch".
West Bromwich Albion coach Keith Downing says Anelka has denied making an anti-Semitic gesture while celebrating a goal during the match.
Downing says Anelka's celebration was dedicated to Dieudonne but says anything else being read into the gesture "is absolute rubbish."
Anelka's salute, Downing said, was "dedicated to a French comedian he knows very, very well... He is totally unaware of what the problems were or the speculation that has been thrown around."
Anelka himself took to Twitter to try to defuse the row, saying in messages in French and in English: "This gesture was just a special dedication to my comedian friend Dieudonne."
The salute, said to look like a mix of a downward Nazi hail and an obscene French movement meaning "Up Yours", has been adopted by many of Dieudonne's fans, though interpretations vary as to whether it is anti-Semitic or anti-establishment.
'I am not anti-Semitic'
Anelka said on Sunday he was not anti-Semitic.
One of the most controversial figures in French sport who was kicked out of the national squad during the 2010 World Cup for insulting his coach Raymond Domenech, Anelka said he only wanted to greet his friend.
"The meaning of 'quenelle' is anti-system. I don't know what it has to do with religion," Anelka said on his Twitter account.
"This 'quenelle' was a sign for Dieudonne. As for the ministers who give their own views about my 'quenelle', they are the ones who confuse with something else and stir the controversy without knowing what the gesture really means.
"So I would ask people not to be deceived by the medias. And of course, I'm not anti-Semitic nor racist and I take full responsibility for my gesture," he said.
Anelka also published a photo of United States president Barack Obama making the same kind of gesture alongside American music stars Jay-Z and Beyonce Knowles.
EJC: Ban Anelka
British media reported that the Football Association was investigating the incident, while the European Jewish Congress demanded English Premier League officials ban Anelka.
European Jewish Congress President Dr. Moshe Kantor called on English Premier League officials to ban Anelka.
"This salute is merely a lesser known Nazi salute and we expect the same kind of punishment to be handed down by the authorities as if Anelka had made the infamous outstretched arm salute," Kantor said. "It is sickening that such a well-known footballer would make such an abusive and hateful gesture in front of tens of thousands of spectators."
He added, "There should be no room for such intolerance and racism in sports and we expect that the English Premier League officials as well as the police will give Anelka the appropriate punishment."
The salute came into the attention of the Jewish world in early December at a New York conference held by the World Zionist Organization's Department for Countering Anti-Semitism.
The organizers presented numerous photos and videos of neo-Nazis documenting themselves performing the gesture across the world, including concentration camps, the Western Wall, and in the presence of IDF soldiers.
The Israeli Defense Ministry has warned soldiers against the phenomenon to prevent any further embarrassment in the future.
AFP, The Associated Press, Reuters and Ynetnews contributed to this report