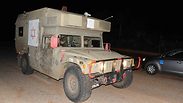 IDF patrol near Lebnese border
Photo: Avihu Shapira
It is almost certain that Hezbollah these days is attempting to fulfill its obligation to avenge and retaliate the bombing of a strategic weapons convoy, which was on its way to reach it three weeks ago.

Hezbollah, and Lebanese and global media, attributed the attack to the Israeli Air Force, which allegedly hit a convoy leading ballistic missiles, apparently 700-kilometer-range Scud D, to the Lebanon Valley, to Hezbollah's storage and launching site. The terror organization already has such missiles, and this was supposed to be a "Syrian gift" to reinforce the already-existing heavy and strategic weapons.

Border Line

Detonation claims no casualties, as IDF retaliates with artillery barrage on Hezbollah outposts.

It is obvious that Hezbollah could not have ignored this action this time. Firstly, because the operation attributed to Israel was carried out on both sides of the border – from within Syrian and Lebanese territories – and mainly because it had witnesses reporting about it to Arab media outlets such as Al-Arabiya. In addition, there is a publication noting that Israeli security officials have confirmed to Time Magazine that the operation was indeed carried out by Israel.

In light of these facts, Hezbollah could not have turned a blind eye, and announced officially that it will take its revenge, and the announcement was made both through its media outlets and by Lebanese politicians pertaining to the organization. Since then, Hezbollah is trying to carry out actions with very obvious characteristics: First – attempt to harm IDF soldiers but not Israeli citizens, and the second – cause damage that would not bring about fierce response by the IDF, which may require Hezbollah to reignite the region.

At present time – when Hezbollah is entangled in Lebanon and Iran is negotiating with the world on its nuclear program – Iran has a clear interest in having Hezbollah maintain its arms, its missiles and rockets, set and ready for action when needed. The Iranians don't want Hezbollah wasting its sophisticated missiles and rockets arsenal on a local matter of Syria and Hezbollah, but rather keep it in case Iran becomes involved.

Another characteristic of Hezbollah's strategy is the repeated attempts to attack until the desired result is achieved. At first, they tried to fire rockets towards a Mount Hermon outpost, and afterwards Hezbollah militants were spotted attempting to place explosives on the Syrian side of the Golan border in order to attempt hitting an Israeli patrol. No injuries were reported in the events.

During this period, another attack attempt or two were documented, and on Friday there was another explosive in Har Dov. It can be speculated that this event – which caused a somewhat routine response by IDF – would be considered a failure in the eyes of Hezbollah, and thus they will continue to try over and over again until they reach an outcome. Even these future attempts are likely to be aimed at military targets. Why? Because the alleged Israeli strike against the weapons convoy was aimed at a military target of Hezbollah.

The terrorist organization has already responded with the same strategy to the assassination of Imad Mughniyah, which was also attributed to Israel. He was considered the organization's chief of staff, however Hezbollah saw him as a citizen, thus repeated attempts to attack Israeli civilian targets around the world were carried out. They failed one after the other for eight years – until the deadly bus bombing in Bulgaria's Burgas. The killing of Israeli citizens as revenge for the killing of Mughniyah satisfied Hezbollah's need for revenge, which was aided by its Iranian operations in Quds Force.

This time it's not citizens, but a matter between armies – the IDF and Hezbollah's military force. Therefore the terrorist organization will keep trying until reaching an outcome, meaning it will spill the blood of at least one Israeli soldier. This is how the "logic" works for the Beirut wing, which is also trying to not enter a confrontation with Israel. The entanglement in Syria is preoccupying the organization and its resources, as well as its Iranian patrons. But for Israel, it is important to know and understand the Friday's event is a failure in Hezbollah terms and they will keep trying – and perhaps are even doing so right now.