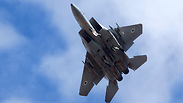 IAF fighter jet
Photo: EPA
War between wars: New rules of engagement
Analysis: As part of what the IDF calls 'war between wars', Israel and terrorist groups and their state sponsors must play a very dangerous game, according to a new set of rules, while trying to create deterrence that doesn't lead to an all-out regional conflict.
The IAF attack on the Syrian side of the Golan Heights is a clear escalation of Israeli defense activity in the north. For three years, Israel has actively avoided operating or even commenting publicly on IAF activity in Syria and Lebanon.

Its recent candidness stems from the fact that IDF soldiers were wounded, something which the IDF sees as warranting a severe and deterring response.

Nonetheless, what played out in the north on Tuesday does not indicate an overall escalation, nor does it necessarily bode of ills to come. It is just another round in what the IDF calls war between wars.

Such a situation, it seems, has rules of its own, according to which each side plays its part and tries to gain the advantage. The major problem is that any miscalculation by either side could send the situation spinning out of control.

Cross-border Terror

Analysis: If Hezbollah is indeed behind explosive that injured four IDF soldiers, it would be considered a success that seals the current round of vengeful attacks – without taking responsibility.

Israel strives to neutralize any bid by Hezbollah, the Palestinians or jihadists to arm themselves or gain a military advantage, as well prevent any impact on daily life in Israel or harm to IDF soldiers.

Terrorist groups are waging war between wars as part of their ideological and armed struggle against Israel, but also as part of an attempt to prevent the IDF from targeting their operatives, be they nearby or far from Israeli territory.

The Syrians and Iranians are helping Hezbollah and the Palestinians in their attempts both to become stronger and to deter the IDF. It is safe to assume, therefore, the onslaught of more than 60 rockets fired last week by Islamic Jihad in Gaza into Israel had at least some Iranian encouragement, if not an outright order.

The common goal for both sides in war between wars is to prevent things from getting too out of hand and spiraling into full-scale conflict. Syria, Iran, Hezbollah, Hamas and even the small Palestinian factions in Gaza – much like Israel itself – have a clear interest in preventing a prolonged and costly conflict that will end without a significant shift in the situation, barring a few dozen dead on both sides and an economic and humanitarian price for all those involved.
Plausible deniability
With this in mind, the first law of war between wars is to act in secrecy, in what is known as "plausible deniability". In such a situation, the side that finds itself on the receiving end of the attack does not have to respond, as it ostensibly has no address for such a response.
For Israel, deploying "plausible deniability" is dictated by whether blood is spilt, and the damage to everyday life in Israel. Attacks that exact a price on civilians are viewed with the utmost severity.
For Iran, Syria, Hezbollah and Hamas, their reaction is dictated by the level of responsibility Israel is willing to claim publicly, or the amount of support generously offered by the Pentagon for said attack. Another factor for them is location - whether Israel acted on Lebanese or Gazan territory.
An attack attributed to Israel that also harms territorial integrity mandates a response either from terrorist groups and Syria. The Iranians, as usual, respond through proxies, but also do so when Israel identifies itself as the attacker.
It is possible to identify several more rules for this type of war; for example, Iran and Hezbollah attacks on foreign soil in order to exact revenge on Israel and achieve some level of deterrence.
Through war between wars, Israel is trying to minimize its losses in the next round of fighting proper, and also use deterrence as a delay tactic in preventing such a direct conflict from erupting.
Hezbollah and the Palestinian organizations are avenging Israel's targeted attacks by causing as much pain, and for as long as possible, on Israeli citizens; they too are trying to achieve deterrence through their responses.
Ultimately, it is important to understand that Tuesday's air strike by the IAF was based on another rule of war between wars: When those responsible do not announce themselves, the sovereign power in the area attacked – in this case Syria – is the one to pay the price.