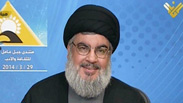 'In the sealed room, Nasrallah is learning to come to terms with a new state of affairs'
Photo: AFP/Al-Manar
It's amazing how time flies: The Lebanese Hezbollah organization is almost 30 years old, and Secretary-General Hassan Nasrallah has been in his position for 12 years now, almost 10 of them in hiding.

Occasionally, he gathers some courage and pops up for operations aimed at lifting his supporters' spirits, and so two years ago we saw him come out suddenly from behind a sealed screen on which his televised speech was being aired. He provided the bad smile, two-three minutes in front of the cameras, until the nervous bodyguards pushed him into the bunker, so that their secretary-general would not be eliminated.

Evil Axis

Hezbollah has been actively involved in aiding Syrian President Assad win the civil war tearing his country apart, and their efforts have certainly helped.

The fact that Israel is not investing any efforts in his assassination is a badge of shame for Nasrallah. As far as we know, they once tried to poison him, but Iranian doctors saved his life at the last minute. Nasrallah invited the recorders to air an unconvincing denial. They say eyes chase him everywhere, that he should know he is transparent. There were opportunities, Mr. Nasrallah. They could have gotten rid of you quite easily. They even know who your replacement is. At the end of the day, however, it turns out that it's better the devil you know.

A long time has gone by and Nasrallah is no longer in charge of the big issues. In his hiding place, he is busy reading newspapers obsessively. He reads us, he has politicians and commentators whose translations he makes sure to receive, and he likes to make headlines with us. He scans the Lebanese media, spots enemies, prepares notes for his next speech and invites a television crew. Not everything that is recorded will necessarily make it to the big screens.

It's fascinating to discover every time just how much our experts have learned to read his mind, how exposed he is even underground. And it seems as if Nasrallah experts can almost always guess what the secretary-general sees as the most pressing issue, what list of notes he has prepared for himself, what spin he'll start rolling and what the Iranians have written for him in the EEI (essential elements of information).

In general, Nasrallah is not interesting. It's advisable not to be alarmed by his attempts to terrify, and to expose – if there even is a reason to expose – the place he is seeking for himself within the Shiite camp, and the respect he wants to gain for the fighters he sends to Syria at Tehran's orders.

We should pay attention that he is in trouble with the Lebanese government, with mothers demanding a convincing explanation for the urgency of making young boys do the Syrian army's job. He is also in trouble with the villagers in southern Lebanon, who prefer to make a living off agriculture rather than see their lands being seized and their storehouses being confiscated.

Last May, Nasrallah dropped a bomb when he exposed the big secret about hundreds of Hezbollah men sent to fight in Syria. Apparently, he had no choice. It was impossible to cover one's tracks when coffins return hundreds of bodies of organization members who suddenly disappeared.

Two weeks ago, in a speech broadcast on a large screen in southern Lebanon, Nasrallah decided to insist that "we entered Syria too late" – a sort of apology to his managers in Tehran. From that same screen he also conveyed a stammering message to us, that he is not interested in entering a conflict, that he won't be the one to start it.

He will continue, together with Hezbollah's operations commanders, to harass us with attempts to plant explosive devices. If he gets the chance, he will gladly kidnap an Israeli soldier. But in the sealed room he is learning to come to terms with a new state of affairs: When Iran is negotiating with the American administration, and Obama promises in Saudi Arabia not to make a bad deal, and the Saudis still see Lebanon as a protégé, Nasrallah will be careful not to get involved in an activity which will lead to a strong Israeli response.