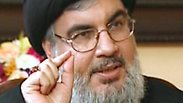 Hassan Nasrallah
Photo: AFP
Hezbollah was behind an attack on IDF troops on the Golan Heights last month, as retaliation for an alleged Israeli strike on one of its posts on the Syria-Lebanon border, the organization's leader Hassan Nasrallah said in an interview published Monday.

"It was a Hezbollah action," the Hezbollah leader told the Lebanese newspaper As-Safir. "It was part of the response to an Israeli attack on one of the resistance posts in the Janta area, on the Syria-Lebanon border."

Four soldiers were wounded in the March attack, when a bomb detonated close to their jeep during a patrol along Israel's border with Syria.

"The Israelis understood the message well," Nasrallah said. "The last Israeli attack in the Lebanese Bekaa was part of their attempt to take advantage of the current situation and Hezbollah's involvement in the fighting in Syria. It is designed to change the rules of the game."

The Lebanese militant leader also said the threat of bombings in Lebanon "has dropped considerably" because of the "measures adopted along the Lebanese-Syrian border."

Related stories:

Following the Syrian army and Hezbollah's successes on the Syrian-Israeli border, "Israel's eyes are now on the Galilee" in concern, as it failed in its attempt to "orchestrate riots in Syria."

Nasrallah told the paper that Syrian President Bashar Assad's regime is no longer in danger of being overthrown, and that concerns Israel.

Nasrallah claimed Israel orchestrated the fighting in Syria - now in its third year and with a death toll of over 150,000 - to achieve its goals of unseating Assad and defeating Hezbollah "after its failure in the (2006) Second Lebanon War." He also noted that "Israel's concern about Iran is growing with each passing day."

Hezbollah militants have been fighting alongside Syrian government troops against the rebels trying to oust Assad from power. The Shiite group's fighters were instrumental in helping Assad's forces dislodge opposition fighters from their strongholds along the countries' border.

However, Hezbollah's public role in the 3-year-old conflict has inflamed sectarian tensions in Lebanon. The country's Sunni Muslims support the Syrian rebels. In the past weeks, the Sunni militants have carried out several deadly attacks on Hezbollah strongholds around Lebanon, claiming they were in revenge for Hezbollah's help to the Syrian government.

As for Assad's government in Damascus, Nasrallah said: "The danger of the Syrian regime's fall has ended."

Syria's conflict began with largely peace protests in March 2011. It has evolved into a civil war with sectarian overtones and Islamic extremists, including foreign fighters and Syrian rebels who have taken up hard-line al-Qaida-style ideologies, have played an increasingly prominent role among fighters, dampening the West's support.